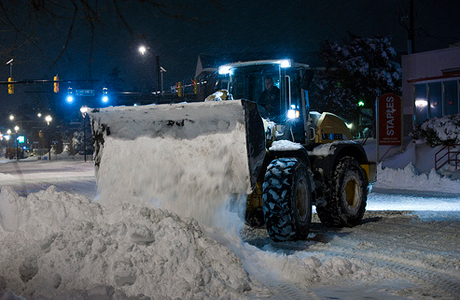 Unless you're one of those lucky expat Brits basking in the bottom band of sunny states, winter in America is a serious business. It gets COLD. Like, penguins wouldn't even live here kind of cold. Our tepid British winters—the type that prompted your mum to demand you "put on a woolly"—are a sweaty sauna compared to what Mother Nature cooks up December to March up in much of the U.S.
If this is your first cold season in a state with a reputation for harsh winters, please know that whatever the locals have told you is not an exaggeration. Sub-Arctic temperatures in the Midwest, for instance, will not only gum up your engine, they could cost you an arm or a leg (literally) if you insist on taking a blasé approach.
To be safe, start buying up winter gear and supplies around mid-autumn. First off: boots. Wellies are hopeless in the über-cold and will merely turn your feet and calves into fleshy ice pops. Come winter, retire them and upgrade to something designed for an Arctic trek.
Don't cheap out and, if in doubt when you're wondering the aisles of REI or Eastern Mountain Sport, ask yourself: What would Ranulph Fiennes buy? Repeat this methodology for choosing a jacket. As a general rule, the more unattractive you look in a winter coat, the cozier you'll be. Even image conscious New Yorkers morph into puffed up, waddling blobs when the cold hits, and no one cares.
Also, reference this handy infographic on how to walk on ice.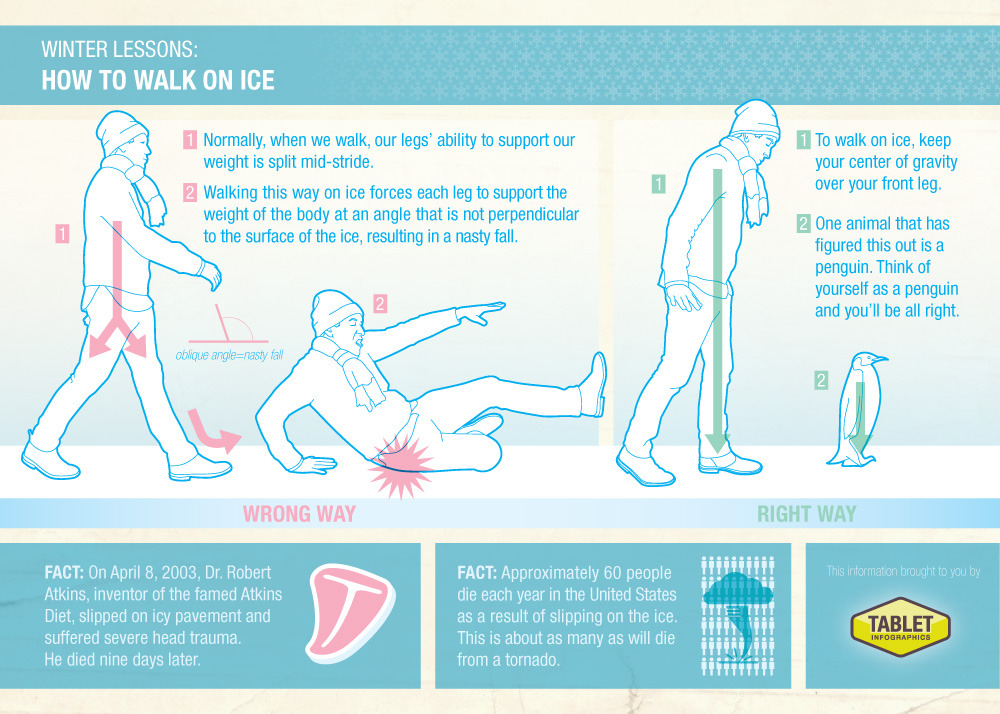 Your heating bill will likely soar in the winter months, and once again this is something to plan for rather than resist. Perhaps you can cope swaddled in 10 jumpers, but your fragile water pipes need regular doses of warmth. Set the heating on a timer so it'll keep things liquid all times—even when you're out or away.
If you're not in control of your building's central heating, don't panic. State laws requires that workplace and residential properties are heated to a certain level over the winter, so look up the temperature rules for your region, then take issue with your landlord or boss if you can't feel your toes.
Brits tend to have romantic notions about snow, perhaps because we don't see a great deal of it. To us, the white stuff is delicate winter candyfloss meant for frolicking in. It's very different in much of the U.S. Detroit, for instance, gets an average of 41 inches a year—and it's not something anyone sensible looks forward to.
The good news is that because much of America is used to harsh winters, they're well equipped and know how to handle it. Here in New York City, for instance, garbage trucks are fitted with snowplow attachments and the streets are swept clean continually. Compare this to major cities in the U.K., which come to a shivering halt at the mere rumor of a snowflake.
Depending on where you live in the U.S., you may be required to keep the sidewalk directly outside your home gritted and clear of snow. (See the rules of show shoveling.) If you rent, talk to your landlord about whose job this is—and who'll provide the snow shovel and grit.
If you own a car, you may want to change your tires to something more snow appropriate for the winter months to improve traction, braking and handling. Talk to a local mechanic if you're not sure whether this is necessary. (And if you're traveling by car in inclement winter weather, have a roadside kit handy for emergencies.)
So now that we've ticked off the gloomy stuff, it'd be irresponsible of us not to remind you to have some old fashioned snowy fun. So, make a snow angel! Go sledding! Build a snowman!
How do you cope with the cold, expats? Or will you be in Miami sipping mojitos while the rest of us freeze? Tell us below!
See more:
Five Occasions When British Expats Should Fly Home – And Five When They Shouldn't
Brits in a Cold Climate
Read More
Filed Under: