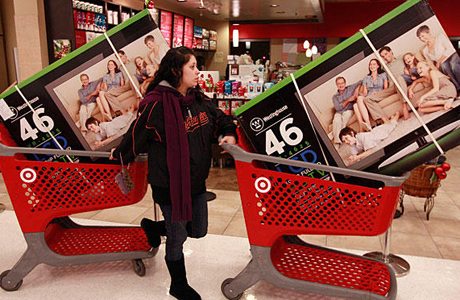 As we've discussed, when Americans talk about the holidays, they're not talking about plans for next summer. The holiday season in the U.S. begins with Thanksgiving and ends after the Christmas/Hannukah/Kwanzaa break (which also includes New Years.) It sounds like a lot of planning and partying but the reality is that Thanksgiving preparations help stave off the Christmas mania somewhat. Yes, there's a flash of red and green on the shelves before October's even over, but Halloween (not quite a national holiday) and Thanksgiving merchandise usually has the edge.
Thanksgiving (with the spoken emphasis on the second word) is a bit like the British Harvest Festival, although not so church-centered. It's a celebration and thanks-giving for a bountiful harvest, occurring on the fourth Thursday in November and is a secular day off work. Many Americans tell me Thanksgiving is their favorite time of year. While it can be lots of hard work (many families sit down to dinners of twenty and more people), there is no gift giving to worry about. It's literally just time to be with family and friends.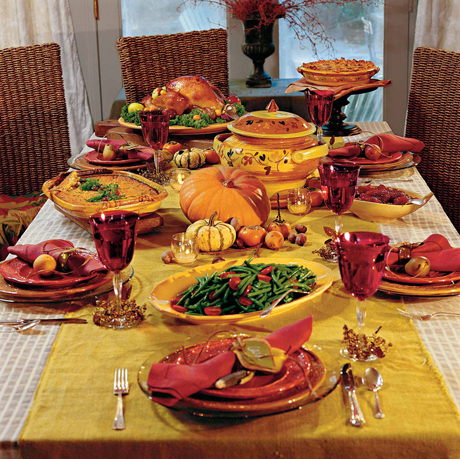 As well as enjoying an over-indulgent Thanksgiving meal, many Americans take part in a local Turkey Trot. These are family-friendly runs that typically raise money for local charities and food banks. And of course, there's football. As the NFL home page says, "NFL games are as much a part of Thanksgiving as turkey, mashed potatoes and pumpkin pie." Thanksgiving Day football first began when Yale played Princeton back in 1876 and it's been a regular NFL fixture since the NFL was born in 1920. I'm sure the earliest Thanksgiving celebrants had a little more than football on their minds however, (#survival).
A fairly recent addition to the holiday season is Black Friday, the day after Thanksgiving. It is said to get its name because businesses end up in the black after this weekend. Black Friday really kicks off Christmas preparations as it's is a huge shopping day where prices are often ridiculously slashed. With gifts in mind, some bargain hunters camp out all night for a spot at the head of the queue. (Apparently many of the same deals are available online, so the really savvy shopper need never leave the comfort of home.) Black Friday isn't a federal (national) holiday, but is a public holiday in some states. There is some concern that it's ruining Thanksgiving because many huge retailers are now opening on Thanksgiving evening in an attempt to boost holiday sales. For some, this is sacrilege but for others, like me, if it's a choice between watching football and shopping…..
As soon as the Thanksgiving leftovers are scarfed down, hearts and minds turn to the next holiday. This generally means Christmas, although many Americans celebrate Hanukah or Kwanzaa and some celebrate more than one. Hanukah is the eight-day Jewish holiday, which may fall at any time from late November to late December. (There are various spellings for this celebration.) Kwanzaa is the six day celebration (December 26-January1) honoring African culture in the African American community. Many schools in the U.S. now incorporate all three holidays into a more diverse winter-themed celebration at the end of the semester or term.
Christmas in the U.S. isn't too different from its British cousin, although Brussels Sprouts, chipolatas and Christmas pud are noticeably absent. One thing that might surprise Brits is the total lack of Boxing Day. If Christmas lands in the middle of the week, you could well find yourself back at your desk bright and early on the 26th.  Oh and of course, there's no televised Queen's Speech!
How do you celebrate the holidays? 
See More:
Thanksgiving Notes for Brits
How to Cope with the Expat Christmas Blues
Celebrating the Holidays in America: Things to Know
Read More
Filed Under: