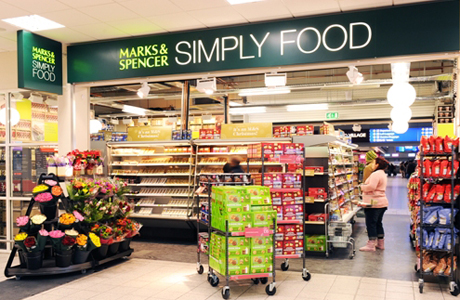 Are you craving nineteen varieties of Oreo, or a slab of meat so hormone-pumped it could complete in the Tour de France in record time? Then head to your nearest American supermarket.
When I moved to the U.S., the thing that sent me into a rage — more than airport immigration queues and the fact that most New Yorkers appear to have learned how to drive by watching the first Mad Max movie — was the substandard grocery shopping experience. Entering a U.S. supermarket is like stepping into the early 1980s. Crumbling beige, cream and brown fixtures abound. The Eagles' Greatest Hits is piped on a loop and the trolleys all have a busted wheel. Precisely no effort has gone into making this an enjoyable shopping experience.
Is this dearth of decent supermarkets exclusively a New York problem? Nope. Having perused this fair land for a couple of years on various self-catering breaks, I can confirm that the problem exists in the rest of the country too. At least in New York and other affluent cities, it's possible to take a pick and mix approach to food shopping. There are delis and artisan purveyors of hand-rolled gnocchi that will relieve you of an entire paycheck in exchange for dinner. Back home, I could get everything I needed in my local Sainsbury's. Here, my weekly shop involves a tour of at least five stores. I no longer "nip out" to do the shopping.
And, yes, before you throw store-bought rotten tomatoes in my direction, I know all about Whole Foods and Trader Joes. These are two small but shining examples of American chain grocery stores. BUT, while lovely, Whole Foods is prohibitively expensive. TJs, meanwhile, is New Yorkers' go-to shop for anything alcoholic, dried, canned or dead, and I'd go as far as to say the shopping experience is pleasant and affordable. (Quality-wise, think Waitrose's economy range, or Sainsbury's mid-range own brand.) Alas, according to the TJ's website, there are only 250 branches in the entire country, so it's hardly available to all.
Elsewhere in the U.S., you're stuck with one vast hangar containing precisely nothing you want. Product displays look like they were designed by disinterested teenagers on work experience. Packaging is depressing and the product quality is poor. Then there's the smell: a chemically enhanced cinnamon and apple, plus a quirky top note, which I've only recently identified as rotting vegetables.
British supermarkets, meanwhile, are arranged by the cunning and design conscious. They draw you in with their artfully arranged ready meals, three-for-two offer on Gü desserts and piped freshly baked bread smell. This stuff used to annoy me, mainly because it worked and I ate too much posh chocolate mousse. Now, I have a revised respect for pretty shelves, clever packaging and olfactory-pleasing in-store ploys.
Whoever's in charge of branding at the major American supermarkets should spend a few days camped out in Waitrose, M&S or Sainsbury's. It's not hard to make food shopping luscious fun, America! People should be mentally assembling delicious dinners as they wander the aisles, not huffing as they stock up on lackluster carbohydrates.
British supermarkets' edge doesn't begin and end with aesthetics. Let's talk about pricing. My weekly shop in London cost me at least a third less than it does in Brooklyn — even with a stack of coupons in my back pocket.
Back home, there's also not the infuriating disparity in pricing that there is in much of the U.S. Sure, Shreddies might be three pence more expensive in Tesco compared to Asda. In America, however, that difference often runs into dollars. Two supermarkets near me recently started stocking sugar-free Swiss Muesli, which was exciting because most other U.S. breakfast options come with free diabetes. Anyway, there's a three-dollar price difference on the identical box depending on where you buy it. It's just bizarre and infuriating. And did I mention everything smells of rotting turnips?
What would you do to improve American supermarkets, expats?
Join @MindTheGap_BBCA on Twitter Wednesday (October 16) at 2 pm ET to discuss British food and its reputation across the States. Tweet your thoughts using the hashtag #MindTheChat.
See more:
A British Expat's Guide to Cooking in the U.S.
Food Memories: What Do You Miss From Britain?
Tipping in America: How To Do It and What To Expect If You Don't
Read More
Filed Under: