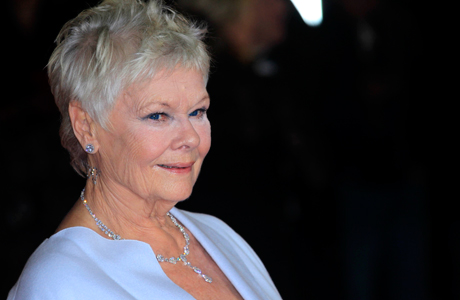 No, it's not that. It's not that either. And it's nice that you've had a creative stab at this, but that would barely raise and eyebrow (and let's face it, raising an imperious eyebrow is one of the core Denchian skills).
No, according to an interview Dame Judi gave to the Sunday Times over the weekend, the two most offensive words anyone can use to her face are old and retire. And this is despite recent concerns (from other people, naturally) as to her health and wellbeing, given that she recently had to have knee-replacement surgery.
Confronted with a question about her 80th birthday next year, she said: "Oh yes, but don't say that! That's an absolutely filthy thing to say. Don't say old, don't say retired, and don't say 80. I'm not even considering retiring."
And this despite needing extra help to learn her lines, thanks to age-related macular degeneration:
"I can't read scripts any more because of the trouble with my eye. And so somebody comes and reads them to me, like telling me a story."
As for the knee, as far as she is concerned it will only help her continue to kick ass (although she's unlikely to put it quite like that): "I am fully recovered now. I don't want to make a big thing out of it. I'm doing the physio and that's all fine. It's an extraordinary thing, knee replacement. How do they even set about it?"
In fact, the only form of agism she will consider, given that she has now left the role, is for her most celebrated recent character, M in the Bond movies:  "M got me noticed by young people. Most young chaps think I have just been M. They think it's cool to boss James Bond around.
"I miss that whole setup. It was so nice. But I've had a long time at it, and MI6 would give her the push now anyway. It can't be somebody my age."*
And seeing as we began thinking about how to shock Dame Judi, it's only fair to end with an anecdote in which Dame Judi shocks back.
She has always been quick to credit the producer Harvey Weinstein with some of the biggest successes in her career, like Mrs Brown, for which she won a BAFTA and a Golden Globe. So much so that she claimed to have his name tattooed on her backside. And even went to the lengths of faking the tattoo, just to fool him.
She explained: "He still thinks it's tattooed. My make-up lady painted it on, and when I met him in New York I told him.
"He dismissed it, so I showed him and said, 'Here you are!'"
See more:
WATCH: Steve Coogan on Cynicism, Bad Journalists and Working with Dame Judi
Five Curiously Neat Theatrical Double-Headers
Daniel Craig: 'We Plan Out The Shirtless Scenes Quite Carefully'
* Note: no spoilers in the comments, please.
Read More
Filed Under: