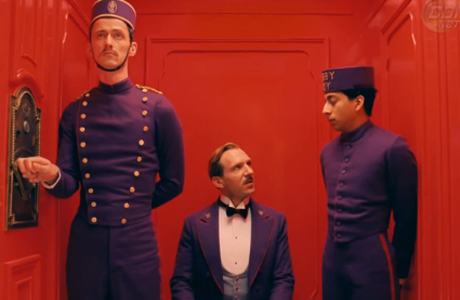 Director Wes Anderson apparently had the Anglophile Handbook in his back pocket when casting his latest film The Grand Budapest Hotel with the star-studded cast all sorts of Britished up, starring Ralph Fiennes, Tilda Swinton, Jude Law, Tom Wilkinson and Irish actress Saoirse Ronan.
Fiennes portrays a high profile hotel concierge by the name of Gustave H., who is bequeathed a valuable painting from his former lover, 84-year-old Madame D., played by 52-year-old Swinton. Yup, you read that right.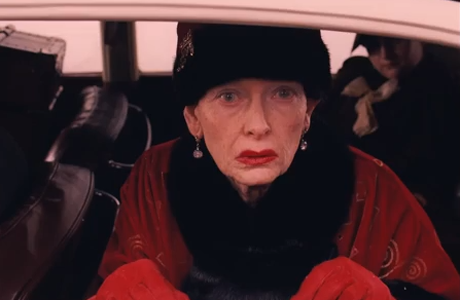 Madame D.'s son Dmitri (Adrian Brody) is not happy with Gustave being in his mother's will and, while his wise guys hold him back, he exclaims, "If I learn you ever once laid a finger on my mother's body, living or dead …"
Dimitri doesn't even get a chance to finish because Gustave unapologetically shrugs him off saying, "I go to bed with all of my friends."
The shortchanged son does not take this well.
Watch the full trailer below:
The amazing cast is rounded out with Anderson alums Billy Murray (Rushmore, Moonrise Kingdom, The Life Aquatic with Steve Zissou), Jason Schwartzman (Rushmore, The Darjeeling Limited, Moonrise Kingdom), Edward Norton (Moonrise Kingdom), Owen Wilson (Bottle Rocket, The Darjeeling Limited, The Royal Tenenbaums), Harvey Keitel (Moonrise Kingdom), Willem Dafoe (The Fantastic Mr. Fox, The Life Aquatic with Steve Zissou), Jeff Goldblum (The Life Aquatic with Steve Zissou) and French actress Lea Seydoux (Prada Candy).
Fox Searchlight recently announced the film will be released on March 7, 2014.
Are you a fan of Wes Anderson's work?
See more:
150 Film Industry Experts (Wes Anderson is one of 'em)
Wes Anderson's 'Rushmore' Renews Interest in Brit Band
10 Surprising British Words for Familiar Things
Read More
Filed Under: