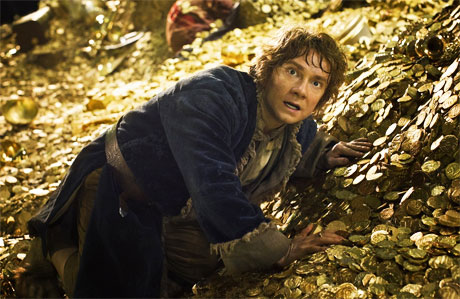 Bilbo Baggins (Martin Freeman) is up for another adventure in The Hobbit sequel, The Hobbit: The Desolation of Smaug. Metro Goldwyn Mayer has released two new TV spots, leading up to the December 13 release date.
Welsh actor Luke Evans, new to the franchise, is the first to play Bard the Bowman on screen. He warns Baggins in the clip below saying, "You have no right to enter that mountain. If you waken that beast, you will destroy us all."
Baggins ignores his warning and with the help of Gandalf and the thirteen Dwarves, he makes his way to Lonely Mountain to reclaim the Kingdom Under the Mountain. Guess who lives at the mountain. One guess.
In the second clip, Baggins says to Gandalf (Sir Ian McKellen), "I found something in the goblin tunnels." We might assume he's referring to a treasure but he goes on to say, "My courage!"
Gandalf slyly responds, "Good. You'll need it."
You can watch two new TV spots below, courtesy of ComingSoon.Net.
Note: The above clip contains both TV spots, they will play back-to-back.
Advance tickets go on sale on November 21; with a December 13 release date.
Are you looking forward to the sequel? 
See More:
WATCH: New Trailer for 'The Hobbit: The Desolation of Smaug'
'The Hobbit' Breaks US Box Office Records
Martin Freeman Humbled by 'The Hobbit'
Read More
Filed Under: