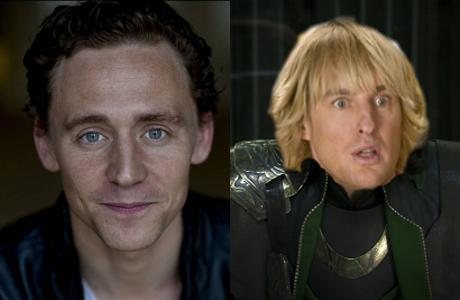 Actor Tom Hiddleston (Thor: The Dark World) has been showing off his dancing and singing skills of late but who knew he does impressions. The 2013 Anglo Fan Favorites winner recently showed off his impression of pal Owen Wilson, who he worked with on Midnight in Paris, and what Wilson would be like portraying the mischievous Loki.
Out of context, the combination may seem kind of random? Why Wilson? Why Loki? Access Hollywood caught up with Hiddleston over the weekend and asked how the impersonation came about.
Hiddleston told the American TV show that he's been doing impressions since he was a kid. He explained he was in Sydney, Australia being interviewed on stage and someone in the audience yelled out, "'Would you do Owen Wilson doing Loki?'" He is a performer and jokingly says, "And, like the circus bear that I am, I said, 'OK!'"
The impression, below, has been watched by close to 2 million viewers already:

Hiddleston may have opened a can of worms with the Wilson impression. Now that people are clued in on this skill, he's getting on-the-spot impression requests. Hiddleston was asked by a red carpet reporter do do an impression of Samuel L. Jackson. Hiddleston threw his head back in laughter, responding, "I think he might take issue with that, as he plays a Marvel character (Nick Fury) himself." Even so, he takes a chance and gives it a go in the below clip:
What do you think of his impressions?
See more:
Watch: Tom Hiddleston Sings! Tom Hiddleston Dances!
Tom Hiddleston Breaks Out in Disney Song
Tom Hiddleston Wins Anglo Fan Favorites for Second Straight Year
Read More