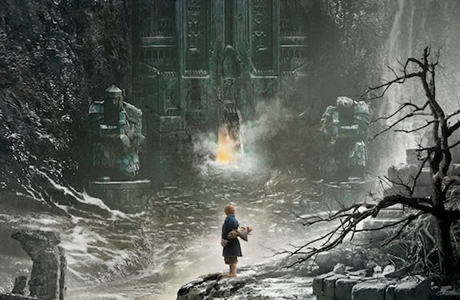 Peter Jackson's The Hobbit: The Desolation of Smaug, the sequel to last year's An Unexpected Journey, seemed like it was a world away when first talking about it … but, the release date is upon us, and the adaptation of J.R.R. Tolkien's epic story will hit theaters on December 13, 2013.
Martin Freeman (Sherlock) reprises his role as Bilbo Baggins who comes face-to-face with the dragon Smaug (voiced by Sherlock co-star Benedict Cumberbatch). Smaug has the dwarve's gold and they want it back.
Jackson told Empire magazine that The Desolation of Smaug has a more serious, darker feel saying, "The first film was where we allowed ourselves to try and capture something of the children's book, but it is really not appropriate to do that anymore."
You can take a peek for yourself with the new trailer below:
Sir Ian McKellen, Richard Armitage, Orlando Bloom, Evangeline Lilly, Andy Serkis and Luke Evans round out the cast.
What did you think of the trailer? 
See More:
Hobbit Lingo to Throw Into Every Day Conversation 
Is This the Actual Ring from 'The Hobbit'?
First Trailer for 'The Hobbit: Desolation of Smaug' 
Read More
Filed Under: