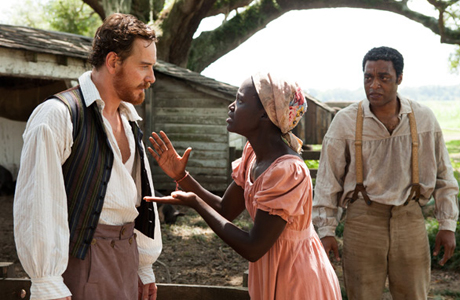 Michael Fassbender, who plays a very sadistic plantation owner in 12 Years a Slave, believes the film's brutal depiction of slavery was justified.
In the picture, which opens in New York today (October 18), audiences are led into the dark, horrific world of slavery in Louisiana in the 1840s.
One of the most difficult scenes to watch is when a young slave girl is beaten so severely and relentlessly that her back becomes raw bleeding flesh.
The picture tells the real-life story of Solomon Northup, a free black man from New York state, who was kidnapped into slavery. Fassbender believes the film had a duty to convey the horror in Northup's story. "I just felt it was necessary, because that's the reality of it, and if we really wanted to do justice to Solomon's story, who are we to decide where to censor?" he says.
But 12 Years a Slave is much more than just a depiction of brutality — it's a profound story of one man's journey and how he survives.
Fassbender appreciates the intricate portrait of slavery that emerges from the film.
He says: "We see the economics of slavery, which is very clear from Solomon's journey — and certainly, with the character that I was playing, Edwin Epps, there's so much complexity within that character. The idea that he's in love with one of his slaves is too much for him to handle or comprehend. He doesn't have the equipment to deal with it and the intellect to deal with it."
Many expect the actor will earn an Oscar nomination for his portrayal, although Fassbender has stated that he won't be participating in any campaigning in the forthcoming awards season.
See more:
WATCH: Chiwetel Ejiofor on the Brutality in '12 Years a Slave'
Busy Week Ahead for Benedict Cumberbatch as Two Movies Open
WATCH: Michael Fassbender Stars in 'The Counselor' Trailer
Read More
Filed Under: