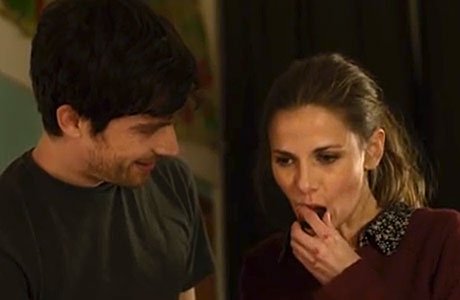 Time for a campaign, I think.
Louise Brealey is great, isn't she? She plays Molly in Sherlock, and so is well-versed in the art of facial expressions that subtly reveal deep the kind of emotional turmoil that must never be spoken aloud. That's proper acting.
And she's in this new movie that is currently touring the film festivals, looking for distribution. It's called Delicious, it was written and directed by Tammy Riley-Smith, and it tells the story of a French cook Jacques Fournier (Nico Rogner), who moves to London in search of his biological father. There's a possibility that it might be the boorish chef Victor Ellwood (Doctor Who / Gavin & Stacey's Adrian Scarborough), so Jacques takes a job in his kitchen, to find out more about him.
It's at this point that he strikes up an unlikely friendship with his neighbor Stella, who has a troubled relationship with food. After failing to seduce her with his cooking, he sets about trying to create a meal that will entice her to eat.
Louise isn't the only Sherlock connection to the movie, which has been produced by Michael Price, who composed the music for the series.
But, according to the Radio Times, there's no release date for the film as yet. If only there was an easily-mobilised army of ready-made fans who already love Louise and her work and would dearly love to see her in a movie. Imagine what miracles they could achieve…
See more: 
'Sherlock' Cosplay: How To Dress Like Sherlock
Martin Freeman Signs Up For 'Fargo' TV Series
Benedict Cumberbatch: "As An Actor, You're Looking For The Infinite"
Five Questions You Should Definitely Ask Steven Moffat At Comic-Con
Read More
Filed Under: