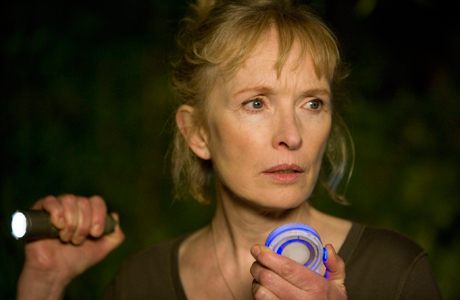 British actress Lindsay Duncan, who was in New York a few days ago promoting her new film Le Week-End, is a big Doctor Who fan — not a totally surprising revelation given that she once appeared in an episode.
Whovians will recall that Duncan appeared in "The Waters of Mars" as Adelaide, one of the Doctor's companions, in 2009.
She says: "I'm just rather cross that my character can't come back, because it would be lovely. I'd love to have worked with Matt Smith who I've worked with in the theater — and now Peter Capaldi. You feel quite envious of the adventure they're having when they're making it."
In her latest film, Le Week-End, she's won some good reviews. The picture chronicles the adventures of a British couple who return for a weekend to Paris, where they went for their honeymoon, to celebrate their 30th wedding anniversary.
Their relationship is at times fraught, but it is a very honest and authentic portrayal of marriage. And, although there are some dark moments, overall the story is inspiring.
The actress sees the husband and wife as "recognizable" people. Duncan says, "We're all full of contradictions, and that's what you see in them. Sometimes they're warm. Sometimes they're sharp with each other. Sometimes they're just nuts really."
Jim Broadbent stars opposite Duncan, playing the husband. He has some strong scenes and a memorable speech in which his character reveals some basic uncomfortable truths.
The film opens in the U.K. this week, but not until February in the U.S. It may be tough to bring in an audience because the film could be perceived as an older person's movie.
But people of different ages may well see themselves represented in the older couple. Duncan says: "I'm convinced that anyone in any relationship will go, 'Yeah, yeah.' I think they'll like these people."
The film's success has much to do with its strong screenplay by Hanif Kureishi, who, after three successful collaborations, is working with director Roger Michell once again.
Le Week-End is very satisfying, not just because of its honest portrait of a marriage, but also because of the manner in which it was made. It was put together on a limited budget with a tiny crew with a shoot that lasted just 21 days. It shows the film world that truly excellent results can come about through modest resources.
See more:
WATCH: Jim Broadbent and Lindsay Duncan Behaving Disgracefully In 'Le Week-End'
WATCH: 25 Celebs Who Have Appeared on 'Doctor Who'
Jim Broadbent: 'Colin Firth Told Me Mr. Darcy Is Dead'
Read More
Filed Under: