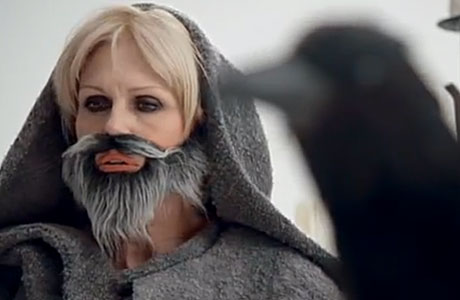 It's a Friday. You don't want to read anything complicated, and I don't want to write it. Save that stuff for a Monday when you need to feel dragged into distracting blog posts by an enticing trail of flighty words and sticky concepts, as a way to escape the yawning maw of the week ahead.
Instead, let's kick back and relax with these video clips of Joanna Lumley, beloved British thespian talent lady, larking about pretending to be big American TV shows as part of a series of commercials for Sky's online delivery service.
Let's start with this one, in which she embodies Game of Thrones through the medium of preposterous beard-wig and blurred crow:
Now give me Gray's Anatomy, STAT!
And The Walking Dead:
There, that's the weekend basically started, right there.
See more:
12 British Actors Who Got Started In Soaps
Gallery: How to Dress Like Patsy From 'Absolutely Fabulous'
Watch: AbFab's Joanna Lumley Fights Back Against Government "Smear Campaign" Read More
Filed Under: