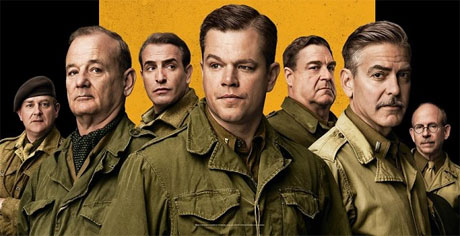 Granted, if you look at this movie a certain way (utilising your senses of sight, hearing and reason) it could seem to be more of a George Clooney, Matt Damon, Jean Dujardin, John Goodman, Bob Balaban, Cate Blanchett and Bill Murray movie than one starring the head of the house at Downton Abbey.
But no one plays a duty-clogged English military man like Hugh Bonneville, and you can see him right at the heart of this wartime epic, in which a team is put together to rescue all the works of art that the Nazis requisitioned (and then burned).
http://www.youtube.com/watch?v=izTbur3YYiY
Yeah! American officer shouting at the stuffy English guy! Grr!
The Monuments Men is released on December 18.
See more:
Hugh Bonneville: Americans 'A Bit Dotty' About 'Downton'
British Celebs You Should Follow on Twitter: 'Downton Abbey' Edition
WATCH: 'Downton Abbey' Cast Covers One Direction
Five Reasons Why 'Twenty Twelve' is a Classic British Comedy Read More
Filed Under: