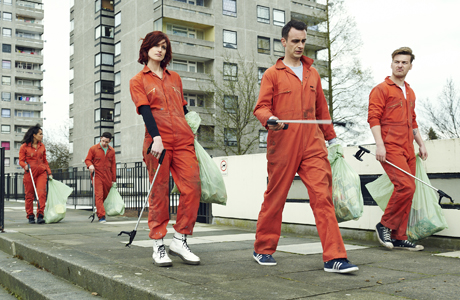 The young offenders, clad in orange, make their return to the U.S. with the fifth and final season of the supernatural TV series Misfits, exclusively premiering on Hulu.com. The first two episodes, of the eight-part series, are available today, October 31, with a new episode launching weekly.
The folks at Hulu were kind to send over the new series trailer, giving us an exclusive first look. Yup, that's right … you guys are the first to see this in the U.S.
The trailer kicks off with the teenagers when they first gained their powers following an electrical storm, fastforwarding to now. In the fifth season, a support group forms on the estate for people who aren't so keen on having a superpower.
Check out the Season Five, Series Finale trailer below:
If you're a little behind, here's a catch up with the trailer from each season:
Season One:
Season Two:
Season Three:
Season Four:
Are you ready for the final season?
See more:
'Doctor Who,' 'AbFab,' 'Sherlock' and More Hit Hulu in Landmark BBC Worldwide Deal
The Five Most Angst-Ridden British Teenagers Ever
Brit Binge Watching: Five Sci-Fi Dramas You Can View Online
Read More
Filed Under: