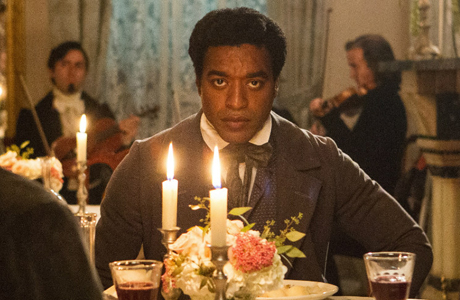 The prizes won't be handed out until the Academy Awards ceremony next March in Los Angeles, but already many oddsmakers are predicting that British actor Chiwetel Ejiofor will be taking home the Best Actor Oscar.
In the forthcoming film 12 Years a Slave, which opens in U.S. cinemas next week, Ejiofor plays Solomon Northup, a free black man from Saratoga Springs kidnapped into slavery in 1841 and sent to plantations in Louisiana.
It's a true story based on Solomon Northup's memoir.
As a slave he was stripped of his identity, shackled and beaten and subjected to all kinds of degradation — but he survived — and emerged, remarkably, with his dignity intact.
"I just thought that there was an extraordinary character, an extraordinary part to play," says the British actor.
The brutality in the film is hard to take. When the picture was launched at the Toronto Film Festival it was reported that some people walked out.
Ejiofor says, "I was there in that screening, but apparently somebody or a couple people walked out. Now, I don't know why they walked out. My suspicion is it's not really about the violence. My suspicion is it's because they had a lot of empathy for the characters and what these characters are going through, and it made them feel saddened by what they were seeing."
But the actor argues that it's important that the physical abuse is shown out of respect for what Northup and other slaves went through. He says, "It would be a disservice to him, to Solomon Northup, a disservice to obviously the millions of people who went through this experience, to try to take away or take out that aspect of their experience at that time."
Although it's being predicted that the film will receive a trove of Oscar nominations, its fate at the U.S. box office is less certain: it may be tough to sell a film with such a tough depiction of slavery to U.S. moviegoers.
See more:
'12 Years A Slave' Wins People's Choice At Toronto Film Festival
WATCH: First Trailer For '12 Years A Slave'
10 British Things About The Whedonverse
Read More
Filed Under: