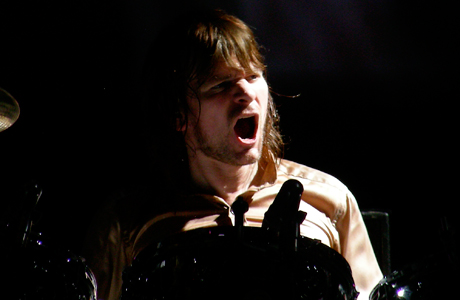 Zak Starkey would be considered rock 'n roll royalty even if he weren't the son of a Beatle. Following in the trade of his father Ringo Starr, the 48-year-old multi-instrumentalist has manned a drum kit as for bands such as Oasis and Johnny Marr and the Healers and has quite capably filled in for the late Keith Moon as touring drummer for The Who. But now he's strapped on a guitar for his new "psych-punk" band PenguinRising, featuring the enigmatically named Sshh Liguz as vocalist and Javier Weyler on drums.
Here's their first U.S. single "HateMale," which has a manic, jittery bhangra energy:
We asked Zak about the popular songs he'd choose to represent his home country of Britain, and here is his list. If you've listened to PenguinRising, this reads as a Who's Who of their influences.
"Silver Machine" by Hawkwind
"The definitive moment in psychedelic rock. As fresh today as when it first traveled through time. Hawkwind spawned many a mad one. As well as being the first tune Lemmy [of Motörhead] sang on. Thank you, 'Silver Machine'!"
"Shoot Speed Kill Light" by Primal Scream
"Primal Scream are the bollocks. End of. So many of their tunes are the ultimate party anthem. Guaranteed to fill up the floor and get hands in the air, eyes closed in ecstasy, heads thrown back—caught in the moment.
"Fire" by Kasabian
"We first heard this tune as a demo when we were having a party with the boys. It was so amazing already, and it had only been recorded in Serge's bedroom. We were like 'What will happen when you've got a whole house to record in? It will be mental!' And it was."
"Morning Glory" by Oasis
"Where to begin with this. Its such a massive tune. It changed everything.. The birth of Brit pop, the beginning of a legacy. The undeniable distinction that is Oasis! That sounds great in ANY language."
"The Faith Healer" by The Sensational Alex Harvey Band
"Alex Harvey is the king of Scotland. A performance artist in his delivery. The last of the teenage idols, a rock 'n roll anarchist before his time, a bittersweet antagonist with a glint in his eye. His gap-toothed snarl and striped shirt. A true icon."
"Anarchy in the UK" by The Sex Pistols
"We mean it, man!!!"
See more:
Kate Nash's Ultimate Mixtape: Six Favorite Songs of All-Time
Ultimate British Mixtape: Guy Garvey's Six Songs That Represent the U.K.
Five British Rockers Who Have Their Own Beer
Read More
Filed Under: