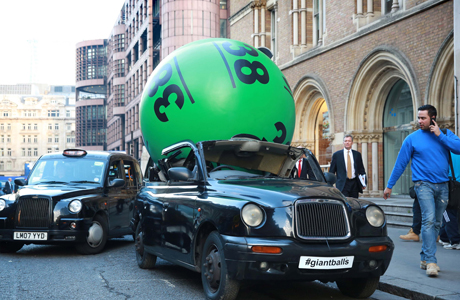 For the first time since the UK's National Lottery Lotto began in 1994, the cost of a ticket has doubled to £2, reports BBC News.
Lotto operator Camelot UK Lotteries Limited looks at the price increase as a chance to win bigger prizes, ultimately raising more money for charities. The Lotto has raised £30bn for "good causes" since 1994. Could we say, they put the "fun" in fundraising. Ah, sorry, we went there.
Camelot UK managing director Andy Duncan told BBC's Today program, "The prizes haven't changed for 19 years and this is a way of actually giving players more opportunities to win more money."
If a winner matches three numbers, they will win £25 rather than £10; but on the flip side, the reward for matching five numbers will be cut in half to £50,000. While this may leave people scratching their heads, we're guessing the operations team has calculated there are more three number tickets going out than five number, and at the end of the day, more money is being won via smaller increments versus the big win takeaways.
In addition to the overall changes, Camelot is holding two £10m jackpot drawings to kick off the new game on October 5 and October 12.
Duncan went on to say the changes came after talking to thousands of players, with the main objective to "re-energize" the Lotto.
This Lottery makeover makes us think of BBC's program The Syndicate where five coworkers join forces, creating a syndicate, chipping in to buy lottery tickets and end up winning £18 million. Feeling overwhelmed, the supermarket employees struggle with figuring out how to live with their new status. They have a bad case of, "More money, more problems." The first season of The Syndicate is available on Netflix.
You can watch the trailer below:
What would you do if you won the lottery?
Read More
Filed Under: