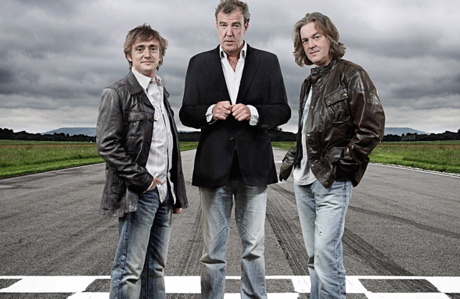 Top Gear Top 41, the greatest moments from the last two decades of the show, is set to premiere, Monday, October 14 at 9/8c. But of course a premiere also means a trailer, which has just arrived.
· "Rush," wrote the Vancover Sun, "may be the best movie about car racing ever made." So maybe you've seen the new film, which tells the story of the rivalry between drivers Niki Lauda and James Hunt during the 1976 racing season. But now what? After director Ron Howard's whetted your appetite for racing movies – where do you, a Top Gear fan, go next?
Fortunately, there's a long history of car racing movies, and just as the sport ranks drivers, cinema and car fans rank the films. A Google search will quickly pull up more than a dozen such lists, which also happen to contain many of the same movies. And since we're not especially interested in ranking the movies – we have no horse, or car, in that race – we thought we'd focus instead on a list of the ten best lists:
· Time magazine: Life in the Fast Lane: 10 Great Auto Racing Movies
· The Florida Times-Union's Auto Racing Films Worth Watching
· Parade's 10 Greatest Racing Movies of All Time
· Paste magazine: The 10 Best Car-Racing Movies of All Time
· Screen Junkies' 10 Best Racing Car Movies
· NCRARacing.org's Top 10 Best Racing Movies
· Aceshowbiz.com's Top 10 Impressive Car Racing Movies
· Sportsinmovies.com's Auto Racing Movies
And no list of movie lists would be complete without these two pit stops:
· IMDB's Best Movies About Motor Racing
· Wikipedia's List of Auto Racing Films
What do all the lists have in common? Aside from a love of the drama of fast cars and the drivers who race them, there are three movies themselves that grace every grouping: Grand Prix (1966), shot in Cinerama, with an international cast including James Garner and Yves Montand; the laconic Le Mans (1971), filmed during an actual competition and called, by Time, "one of the purest racing films ever made"; and the Tom Cruise vehicle, Days of Thunder (1990), often thought of as Top Gun on wheels.
http://youtu.be/Chbqa-u8c4c
Other movies make almost all the selective lists: Two Lane Blacktop (1972), in which two drivers, played by Warren Oates and James Taylor, compete in street races as they traverse the country; in Winning (1969), Paul Newman drove the actual car that Bobby Unser drove in and won the Indianapolis 500 the year before; Michel Vaillant (2003), based on a French comic book; and the Wachowski's live-action adaptation of the anime series Speed Racer (2008).
Lighter fare made it onto lists as well, like The Cannonball Run (1981), which starred Burt Reynolds, Farrah Fawcett, Roger Moore and a cast of zillions, in a slapstick comedy about an illegal cross country race; and NASCAR comedy Talladega Nights: The Ballad of Ricky Bobby (2006) with Will Ferrell.
Some biopics also fared well. In Heart Like a Wheel (1983), Bonnie Bedelia played pioneering female drag racer Shirley Muldowney, and in Greased Lightning (1977), Richard Pryor portrayed Wendell Scott, the first black NASCAR driver.
And many people cite the 2010 documentary Senna, about the Brazilian race driver Ayrton Senna who was the last Formula 1 driver to die on the track, as a major reason for the resurgence of interest in F1 racing.
• Our favorite list is probably the longest list. It's not meant to be a critical or selective list, but one aimed at completists who want to know not just the standout car race movies but every car race movie. It was posted on the message boards of the Race New York website, and it contains almost 200 movies, dating from as early as 1913's The Speed Kings, with Fatty Arbuckle and Mabel Normand.
• And if you look on that last list, you'll find some British car racing gems. Like the 1953 Genevieve, about two couples, played by John Gregson and Dinah Sheridan and Kenneth More and Kay Kendall, who enter their antique cars in the yearly London to Brighton Veteran Car Run, with sweetly comic results.
After the credits at the beginning of the film, moviegoers were offered the following on-screen announcement: "For their patient co-operation the makers of this film express their thanks to the officers and members of the Veteran Car Club of Great Britain. Any resemblance between the deportment of our characters and any club members is emphatically denied—by the Club."
The movie won a BAFTA for Best British film and is also beloved for its musical score, which includes songs and dance numbers – and a scene in which Kendall plays the trumpet.
http://youtu.be/e_S4UIlFuWw
In 1956, the British film Checkpoint mixed the car race and crime thriller genres, which has become a popular combination.  The movie starred such British acting luminaries as James Robertson Justice and Stanley Baker, and New York Times critic Bosley Crowther said that although they could not save the plot of the movie, the racing cinematography was "dazzling" and "breathtaking." Crowther concluded, "If you haven't got your own Ferrari to ride in, Checkpoint offers a fair alternative."
And of course, you may be more familiar with Those Daring Young Men in Their Jaunty Jalopies (1969), whose original British title was Monte Carlo or Bust! (It was changed to emphasize that it was a sequel to 1965's Those Magnificent Men in their Flying Machines.) An international cast, including Tony Curtis, Terry-Thomas – and famed British comedy duo Peter Cook and Dudley Moore, take on the Monte Carlo rally in the 1920s.
• Speaking of the 1920s, here's documentary footage of a real British car race from 1928 at Brooklands raceway in Surrey, England. Notice how the real drivers run to their cars as the drivers in Checkpoint did – and notice how they take the track's curves.
CAR RACE AT BROOKLANDS
Read More
Filed Under: