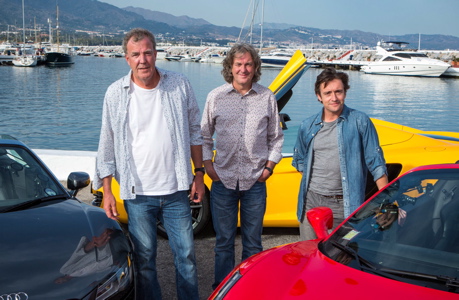 Viewers of Top Gear are often treated to epic challenges, but in next week's program, Richard Hammond undertakes a different kind of epic challenge: winnowing down the show's top 41 moments over the past two decades.
You'll see them all when Top Gear's Top 41 special premieres on BBC AMERICA this Monday, October 14 at 9p/8c.
But you don't have to wait until then to see moment No. 41 – Top Gear's look at The Marauder, South Africa's ten ton military vehicle. You can see a sneak peak video clip right here:
• And this is surely a top personal moment for Hammond and for one little girl with a terminal illness from Herefordshire: the Hamster visited eight-year-old Emilia Palmer, who suffers from a degenerative lung disease, and took her for a spin in a bright pink Lamborghini Aventador Roadster last weekend.
Emilia's dream was to ride in a pink Lamborghini with Hammond — and the youngster's wish came true through the efforts of the Rays of Sunshine charity, which arranged for the Hammond visit – and for the temporary pink spray paint on the Aventador.
Hammond appeared at Emilia's home — with the car — and drove her to an airstrip where the youngster experienced some serious speed on the tarmac with her favorite TV host.
"Emilia had an incredible time," said Emilia's mother Rachel, according to the Ledbury Reporter. "The fact that the wish was turned around so quickly, meant that she was still physically able to enjoy it."
"There was every chance she could have been shy, but she chatted non-stop," said Hammond. "It is truly inspiring how brave people are – an inspiring, positive, unique and uplifting occasion."
• For Top Gear, nothing succeeds like failure. So you might want to prepare for Monday night's Top 41 premiere by watching some of Top Gear's Top Fails. Specifically, you can watch all of part one of the aptly-named Top Gear's Top Fails special, in a limited-time online stream, right here.
• And if you'd prefer to decide for yourself which are the top moments on Top Gear, you can very easily do that now — because Top Gear (from Season 2 through Season 18) is available for your viewing pleasure on Hulu Plus. Just click here.
• One online fan asked the question, "What would Top Gear be like if it were set in Grand Theft Auto V universe?" It was only "several hours later," according to the fan, that the answer was rendered. Take a look at the fan's opening for the show from the GTA V alternate universe:
• For the first time ever, Top Gear Live is going to Scotland. When tickets for three shows in January were first put on sale last week, demand was so high — nearly selling out — that a fourth show was added.
"I've absolutely no idea exactly what we'll be up to in Glasgow, as this is the first time we've ever performed live north of the border," Jeremy Clarkson said, according to TopGear.com. "But you can guarantee it will be something very special. What we can promise is lots of gigantic explosions, some very scary stunts plus a magnificent line-up of incredibly expensive supercars… not to mention all the usual cock-ups, crashes and arguments. Who knows, you might even see The Stig in a kilt."
• The most recent Top Gear Live was staged in Warsaw in September, with more than 58,000 people in attendance, according to Motor Trades Insight.
"It was one heck of a thrill performing in front of such a huge and brilliant audience," said Clarkson. "Being plucky Brits we did the honorable thing and lost the football match but overall we all had an amazing experience — it was an evening I'll remember for a very, very long time."
Read More
Filed Under: