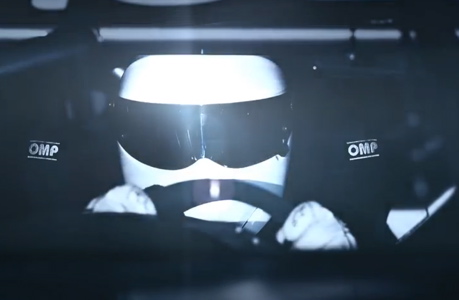 We all know that The Stig has cousins all over the world — in Africa, China and Italy, just to cite a few examples of his kin in far-flung locations. But did you know that the mystery racer in white also has a digital cousin?
His heretofore unknown cyber-relative is making his debut next month in the new Xbox One's Forza Motorsport 5.
Now, we already knew that Jeremy Clarkson, Richard Hammond and James May are all going to be featured in the newest version of the wildly popular game, which is a launch title on the new Xbox console.
But now you can get ready for The Stig himself. As you probably guessed, he won't be offering commentary — he'll be providing speed, and you'll be able to race against him in the new game.
"He — or it — is allegedly beatable," writes TopGear.com. "But only if you're really good."
The Xbox One and Forza Motorsport 5 hit the streets on November 22.
• The Top Gear Top 41 countdown continues on Monday, October 21, at 9 pm/8c on BBC AMERICA. Among the "best of" segments are some you may fondly remember: the three guys take part in a classic car rally in Spain; an Apache gunship takes on a Lotus Exige; and a trailer is destroyed in an unusual game of car-darts. (Is there a usual game of car darts?)
• Last week, we told you that you could watch part one of Top Gear Top Fails – this week, you can also watch part two. Click here to watch them both.
• There are reported sightings of filming for next season, season 21, of Top Gear. The latest purported evidence comes from a self-described "super car freak" with the YouTube moniker cvdzijden, who posted this video of a McLaren P1 on the Spa-Francorchamps race track in Belgium.
Another YouTuber, CarExposure, offered this, which appears show Jeremy Clarkson behind the wheel of the McLaren.
• The man who used to be The Stig, Ben Collins, did an Ask Me Anything chat on Reddit, where he answered fan questions such as "Was it hot inside that helmet?" with answers like: "Some say the Stig once took off his helmet only to find another helmet in there."
He said his best Top Gear experience was coaching blind driver Billy Baxter on the track: "He managed to beat 5 sighted drivers and drive the lap100% himself with me shouting expletives and directions as fast as i could. I could have kissed him, had he not been sweating quite as much from the effort," Collins said. "Billy was epic."
When he was asked how he kept his identity a secret for so long, Collins replied: "I got myself a BBC ID card with a fake name 'Richard Jameson' cleverly made of the three presenters names — so that I could book hotels and get up to mischief without getting caught. Used to wear a balaclava everywhere to hide my face anywhere near a Top Gear shoot and generally be as sneaky as possible."
• And speaking of Ben Collins, the former Stig has appeared in an extended commercial for the Audi RS 6 Avant, in which he takes on an obstacle course with parkour runner Damien Walters. Yes, it's an obstacle course, but, as you'll see, it's really all about paintballs.
• Finally, Top Gear magazine traveled to Los Angeles recently to look at how a small number of troubled teens are turning from memberships in gangs to memberships in car clubs. The clubs may have names that sound a little like those of gangs – the Majestics, So-Lo Riderz, One Bad Creation, Resurrection and Showtime – but by focusing on cars, collecting and mechanics, they're getting juveniles away from violence and teaching them valuable skills.
"All you need to get kids away from gangs is take them for a ride. Seriously. It's all it takes. Just one ride can reform someone," one car club member told Top Gear, which ran an article and photo essay.  "And then these clubs continue the support, and give the next generation counseling, protection, a skill and a car-club plaque, which is like a badge of honor. Keep them off the street, get them on the boulevard."
Read More
Filed Under: