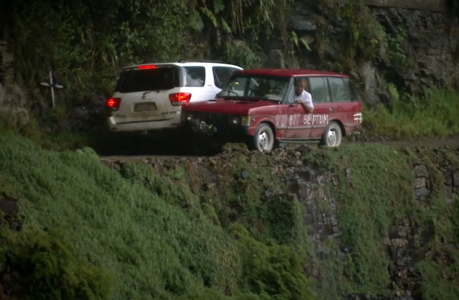 As Richard Hammond continues his look at the show's greatest hits in the premiere of next week's episode of Top Gear Top 41 (airing Monday, November 4, 9p/8c), we thought we'd take the occasion of Halloween to look at some of the program's scariest moments—and, as you know, there are lots of them. But we've narrowed them down to six, sort of, because some of them are multi-part scarinesses, and we really weren't sure how to count them. We were too busy being scared.
1. Road of Death
Have you ever found yourself driving on the side of a mountain on a thin sliver of a treacherously winding road, staring over a cliff of hundreds of feet into a chasm of death? You have? Well, don't be staring off, keep your eyes on the damn road! Which is something you'll need to do if you ever find yourself on Bolivia's "Road of Death," which is where our favorite triumvirate found themselves in season 14.
2. Top Gear Apocalypse
Of course, anything with the word "apocalypse" in it is massively scary, so Top Gear Apocalypse conjures up all those Mad Max, end-of-the-world type fears of a dystopian wasteland in which the living envy the dead. The stunt was so scary that Top Gear hosts James May and Richard Hammond could only drive their cars via remote control.
3. The Marauder
Not only is the name "Marauder" scary in itself, it describes something that's pretty frightening – a 10-ton military vehicle that showed up in season 17. And the gas mileage is probably even more terrifying.
4. Escape from Germany
Could anything be scarier than being in Germany? Yes, not being able to get out. That was the challenge facing the Top Gear hosts in season 15, when they found themselves in Colditz, each with a car that had only three gallons of gas to get them more than 100 miles to the Polish border. Colditz, you may remember, was site of a castle that became infamous as a POW camp for captured Allied officers during World War II.
5. The Fall of the House of Albania
Breaking with the past can be very scary, especially when it employs enormous explosions and mass destruction. In season 17, the boys tackled the demolition of houses in Albania.
6. The Toyota That Wouldn't Die
Just like Freddy or Jason or Michael Myers, there are some things that simply won't die, no matter what you do to them. Such is the Toyota pick-up known as the Hilux.
And also like the menacing characters of horror movies, the Toyota returned in a sequel.
And, also like any horror movie franchise, two is never enough – the Toyota once again rose from a dusty grave.
And here's a little Toyota-related Halloween bonus, a "scary-sexy" commercial for the car that will not die. Be afraid.
http://youtu.be/hpKlmDGJEyA
See more:
Adele Dreams of Being Star in a Reasonably Priced Car
The Stig's 'Digital Cousin' to Debut in New Forza Motorsport Game for Xbox One
Eleven Fictional Characters Who Could Totally Be Time Lords
Read More
Filed Under: