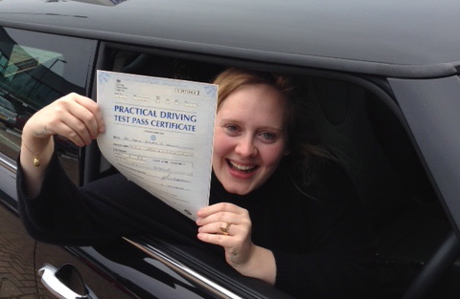 So you're a celebrity superstar, and you don't know how to drive—what's your biggest motivation to learn? Chances are, you don't drive yourself to work, and you probably have drivers for all sorts of other mundane tasks that the rest of us perform ourselves. But here's something the rest of us non-celebrities can't use our driving talents for: because we're not famous, we simply can't be stars in reasonably priced cars.
However, when student driver and pop songstress Adele passed her driving test and got her license last week, she told her driving instructor that she's setting her sights on Top Gear.
"Adele is a gifted driver and what she really wants is to be on Top Gear, with my encouragement," said  her instructor Noel Gaughan. "We discussed it, and it's a dream."
Gaughan said that Adele was "ecstatic" after she learned that she passed.
"I nearly cried when I saw how much it meant to her," said Gaughan, owner and senior driving instructor for Intensive Courses Driving School.
Adele was also taken with Gaughan, whom she termed the "Dumbledore of roads" in a posting on the instructor's website, adding that she "could not have done it without him, and his jokes changed my life."
The website also noted that her examiner thought her driving test performance was "exceptional," while Gaughan thought she was "a quick learner and a lot of fun to work with" – overall, a driver whom he is "looking forward to seeing driving on the roads in the U.K."
Gaughan, however, had no idea that his student was a celebrity when she first got behind the wheel.
"I didn't know who Adele was, so she started singing in her lessons. The problem was I didn't know any of her songs," he said. "When I did realize who she was after a few days, I just didn't tell her, I pretended I didn't know, so she'd sing for me."
When it comes to the world of the famous, Gaughan claims he's a bit clueless. "I don't really know many celebrities," he says.
Which is kind of strange because it turns out that Gaughan is known as a "driving instructor to the stars"—having taught such actors as James McAvoy and Gemma Arterton and such singers as One Direction's Niall Horan to drive.
Gaughan enjoys working with celebrities—even if he doesn't know who they are at first—and the feeling is mutual, with word of mouth apparently building up his roster of famous students. He especially likes their sense of humor.
"Rhys Ifans is the funniest pupil I've had," Gaughan said. "When we got to the test center he walked up to the examiner and said, 'Shall I drop my pants now?'"
And Gaughan proudly notes one former student's fancy driving on the show Adele aspires to appear on: "James McAvoy was a really sweet guy, and it was great seeing him on Top Gear."
• Last week, we told you that The Stig's "digital cousin" will be making an appearance in Forza Motorsport 5 when it premieres as a launch title on the new Xbox One gaming system next month. Xbox has released a preview clip of Jeremy Clarkson discussing "modern hypercars," including the the McLaren P1 and Pagani Huayra:
The newest version of the game will have a new visual rendering of the famed Top Gear track, and some preview photos have already been released:
• TopGear.com caught up with Johnny Knoxville, of Jackass fame, and asked about the havoc that might ensue if Top Gear and Jackass ever teamed up. "I'm sure if the two got together, bad stuff would happen," Knoxville said, laughing. "You don't have to write that stuff ahead of time, because chaos would just prevail."
• The countdown continues this week on Top Gear Top 41. Host Richard Hammond continues his look at the top moments of the show from the last two decades. The new episode premieres Monday, Oct. 28, 9p/8c on BBC AMERICA.
• Finally, we know that since TopGear.com often traffics in superlatives, frequently naming videos the "best," you may be tempted to express some skepticism at the claim that this particular video of a Russian man at a gas station breakdancing on the Lada he's refueling "may be the best video in the whole world." All we can say is that you should refrain from making a judgment at least until you see what he does half a minute into the clip:
Read More
Filed Under: