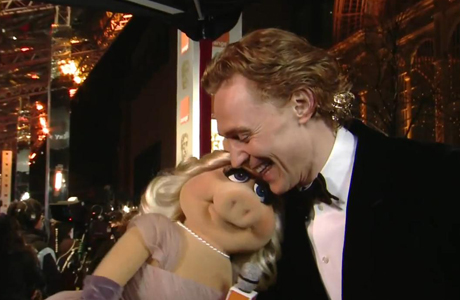 Thor star Tom Hiddleston never fails to impress. It's not that he's pulling out impersonations left and right, it's that he's so obliged to do them without any hesitation.
We're not sure how long this will last, so we'll enjoy them as they come.
Hiddleston will be appearing in the upcoming Muppets film, Muppets Most Wanted, as the Great Escapo. The Muppets head out on a European adventure and run into a Kermit lookalike who is up to no good. The gang finds themselves in the middle of a jewel heist.
Having worked with Miss Piggy and Kermit the Frog, Hiddleston has mastered impressions of the on-again, off-again couple. We mean, it'd be just rude if he didn't actually know the actors themselves and went around doing impressions.
Hiddleston sat down with Shortlist magazine to chat about upcoming projects.
You can take a listen to his impressions in the below clip:

The Muppets Most Wanted hits theaters in 2014, on March 21.
Do you have any impersonation requests for Tom Hiddleston? 
Read More
Filed Under: