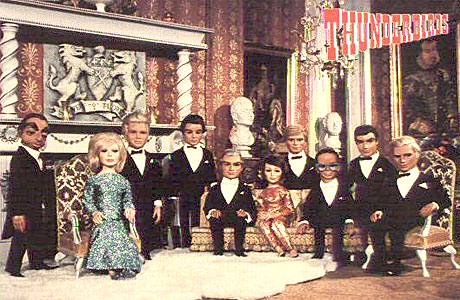 One of the most delightful developments in the history of British TV came from the wondrous mind of Gerry Anderson, and his "Supermarionation" productions of the 1960s. Each show used string puppets and models to recreate the kind of action movies he always wanted to shoot, but never had the budget for.
There was Stingray, Captain Scarlett, Joe 90, and the most fondly-remembered of all – Thunderbirds. 
It's the story of a family – the Tracys – who made it their business to rescue anyone caught in a life-threatening situation, beyond the reach of the emergency services. This being a Cold War drama, the situations often required delicate handling as well as heavy lifting, and the Tracys were often assisted in their work by the glamorous Lady Penelope, who ran a kind of diplomatic wing of International Rescue from her pink Rolls-Royce, ably piloted by her adenoidal servant Parker.
Now ITV is making a new version of Thunderbirds – entitled Thunderbirds Are Go! – using CGI instead of puppets, and starring Rosamund Pike as Lady Penelope. And the sole remaining member of the original cast, David Graham, has returned to voice Parker once more, much to his delight:
He told BBC News: "I am triple chuffed to be on board the new series of Thunderbirds Are Go! and reprising my role of dear old Parker with such a distinguished cast."
"My driving skills are in good nick and I am delighted to be behind the wheel again with M'Lady."
For her part, Rosamund says she's "very excited to bring Lady Penelope's wry wit and taste for adventure" back to life.
"Exploring the scenes with David Graham has been an absolute delight. The scripts are very modern, very fresh and very funny. We're all eagerly anticipating our next stint in the recording studio!"
The rest of the cast includes the vocal talents of Thomas Brodie-Sangster as the middle Tracy brothers, Gordon and John, and Rasmus Hardiker as Alan, the youngest, and Scott, the eldest, with Virgil Tracy being played by David Menkin. Grandma Tracy will be played by Sandra Dickinson.
The new series will appear on British screens in 2014.
See more:
Five Astonishing Gerry Anderson Puppet Realities
Leah Rozen Interview: 'Barney's Version' Star Rosamund Pike
WATCH: Simon Pegg Reveals First Trailer For 'The World's End'
Five Great British Children's Filmmakers
Read More
Filed Under: