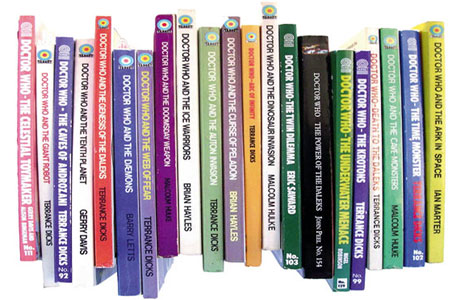 Doctor Who isn't just about special effects, prosthetics and running down corridors. It's also about ideas, and there are very few ways to make ideas explode in the mind that can match reading.
So, because there are a LOT of Doctor Who books on the shelves, because there are even more on the way to celebrate the 50th anniversary, because Doctor Who suits reading so very well, here's a selection of early Christmas present ideas for the Whovian in your life. Or yourself.
 1. The Doctor Who 50th Anniversary Collection
In honor of the upcoming 50th anniversary (and also because it's a very good idea), BBC Books teamed up with Random House Group to release eleven novels — one per Doctor, of course — with new, beautifully designed covers.
The tales are a mix of specially-commissioned original stories, by notable Whovian authors like Mark Gatiss, to classic tales, such as the Seventh Doctor's Skaro-smashing "Remembrance of the Daleks."
A handsome adornment to any Whovian's bookshelf.
2. Doctor Who: The Essential Guide to Fifty Years

The title really gives this away, as this book covers the entire span of Doctor Who's 50 years, 11 doctors, countless companions, endless foes, and every single adventure that has appeared throughout the years.
This is the book for anyone who has dipped a toe in with the Tenth or Eleventh Doctors and wants to find out more, just as much as it's for superfans who can tell you where Davros gets his nails done.
3. Any of the Doctor Who Target novelizations
While we are waiting for the eventual return (fingers crossed) of all of the missing early episodes of Doctor Who, the best way to experience those stories is still the Target novelisations. These were written – often by the people who had also written the TV script – in an era before home video, let alone DVD, Blu-Ray and downloads, and for a while were the only way for new Whovians to experience any of the old adventures.
And there's still something hugely charming about reading Doctor Who, whether it's classic stories like "The Brain of Morbius" or "The Planet of the Spiders" that have been available to rewatch for years, or long lost treasures like "Power of the Daleks." And as they're based on the scripts, all of the dialogue has the authentic voice of the Doctor.
4. Doctor Who: The Vault by Marcus Hearn

Coming to a book-seller near you (or the internet) on Thursday, October 24, The Vault will be the ultimate collector's item for hardcore Whovians everywhere.
This book will feature material from pre-production memos from 1963 all the way through 50 years worth of scripts, photos, letters, costumes designs, props, and more. An astonishing archive of the materials used to make Doctor Who what it is today.
5. Doctor Who: Who-ology by Cavan Scott and Mark Wright
This comprehensive book is a study on the facts and figures that make up the Whoniverse. Take an in-depth look at family trees, planet and galaxy descriptions, and ways to defeat the worst monsters.
Think you know your planets? Are you sure you know which villainous mind is behind some who the Doctor's biggest foes? Test your Who-knowledge and find out all you need to know through this collection of charts, tables, and illustrations that explain all you can imagine and more!
6. Where's the Doctor? By Jamie Smart & When's the Doctor? by Jorge Santillan

Who wants to find Waldo when you have an alien Time Lord with two hearts and his companions to find amongst their mostly deadly enemies? In these colorful pages you'll have fun testing your sigh as you look for Eleven, Amy, and Rory through swarms of Daleks, pirates, and more!
Then, when you're done with the monsters, take the search up a notch as you travel through time to find the Doctor and his friends in the most exotic destinations and exciting decades.
7. Doctor Who: A History of the Universe in 100 Objects by Steve Tribe & James Goss
Sonic screwdrivers, and fob watches, and the Pandorica, oh my! Go past the characters that we have grown to love and look at 100 objects and the bearings they have had in cultivating the Whoniverse through the years.
Everything –and we mean "thing" – serves a purpose, tells a story, and "has its time" (to quote the Doctor, himself), and this book takes a look at just what, when, and how these objects have mattered.
See also: The Doctor: His Lives and Times by James Goss & Steve Tribe
8. Who's There? The Life and Career of William Hartnell by Jessica Carney

We all know William Hartnell as the first Doctor — the alien who stole the TARDIS with his granddaughter, Susan Foreman, and traveled time and space with her human teachers, Ian Chesterton and Barbara Wright.
Hartnell's incarnation lasted three years before ill health forced him to leave (thus creating the best plot-twist and continuity-facilitator ever, regeneration), but what do we really know of the actor behind the first Time Lord? In this book by Hartnell's real-life granddaughter, Jessica Carney, we take a look at the life and career of the iconic man, and the path that brought him to one of his final, and most memorable, roles: the Doctor.
See also: Patrick Troughton – The Biography of the Second Doctor Who by Michael Troughton (if you can find it).
9. Summer Falls and Other Stories by Amelia Williams, Melody Malone, and Justin Richards
Without meaning to dispense spoilers, we all know where this book fits into the recent history of Doctor Who, don't we? We know who Amelia Williams is, and why it's good that this book contains not only a story and an interview, and we know who Melody Malone is, and why a story called "The Angel's Kiss" is going to be compelling reading.
And if we don't know this, watch "The Angels Take Manhattan" before commencing reading.
10. Doctor Who annuals

Be warned, once you start collecting the official BBC annuals for Doctor Who, you may eventually find yourself taking extreme lengths in order to complete your collection. But they are a wonderful way to see how fan culture around the show has changed over the last 50 years, with odd snippets of production information, quizzes, games, and the kind of backstage photos that would nowadays appear on a website.
And of course you don't have to start with the old ones. There's a 2014 annual available already!
11. Puffin's 50th Anniversary Doctor Who e-books
This series of e-books is geared towards the Whovians of a younger generation (not to say fans of all ages won't appreciate them, though). The electronic series will feature eleven short stories, total, and will take readers on adventures written by some of the most popular authors in children's fiction, such as Eoin Colfer, author of the Artemis Fowl series.
The first installment in the series was published in January of this year, with one Doctor adventure releasing per month — meaning only the first ten Doctors' stories are currently available for purchase.
12. Dining with the Doctor: The Unauthorized Whovian Cookbook by Chris-Rachael Oseland

This comprehensive cookbook goes past your average fish fingers and custard and gives Whovians great recipes for all sorts of intergalactic, timey-wimey recipes.
Useful for occasions as big and formal as dinner parties, although we're all most likely to go with the dishes that best suit a friendly gathering in front of a TV with a big stack of Doctor Whos to watch together.
And as a little extra for you non-readers, to complete the baker's dozen, why not try…
13: The Angel's Kiss: A Melody Malone Mystery by Justin Richards, narrated by Alex Kingston
This audiobook, narrated by the voice of River Song herself; Alex Kingston.
See more:
Eleven Fictional Characters Who Could Totally Be Time Lords
Photos Released for 'An Adventure in Space and Time,' BBC AMERICA's Drama About 'Doctor Who'
Steven Moffat: "Smith & Tennant Is Like Laurel & Laurel"
Snapshot: 21 Photos of Cardiff, Wales (Doctor Who's Turf)
Read More
Filed Under: