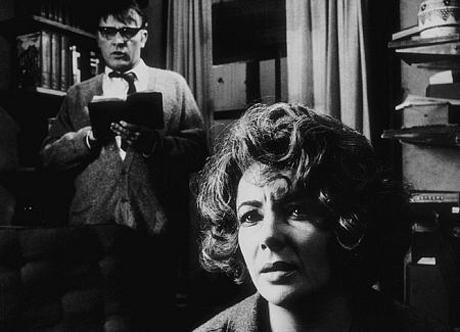 Liz and Dick. That's what they were known as back in the day, long before conflated monikers, such as Brangelina (Brad Pitt and Angelina Jolie) or Julena (Justin Bieber and Selena Gomez), became de rigueur for celebrity couples.
And a good thing, too, that movie stars Elizabeth Taylor and Richard Burton were from an earlier era. If still around and together again today, the fabulous couple would doubtless be known as "Lick."
The star couple's tempestuous pairing is the topic of BBC AMERICA's Burton and Taylor, which stars Dominic West and Helena Bonham Carter and airs Wednesday, October 16.
But I digress. The purpose of this post is to rank the Top Five movies that Taylor and Burton made together over the course of their courtship and two tempestuous marriages. (They made 10 feature films together, plus two additional movies that deserve only asterisks, for reasons I will explain later.)
What's most notable about the movies that the London-born Taylor (1932-2011) and Welsh-born Burton (1923-84) co-starred in is how widely they vary in quality. While Who's Afraid of Virginia Woolf? remains as compelling and visceral today as it did when it shocked moviegoers at its first release in 1966, and is by far their best film as a couple, the majority of their other movies now play like bloated star vehicles with little on their minds other than showcasing the sex appeal of the two stars and giving audiences a sense that they were getting a voyeuristic glimpse into the couple's real-life relationship.
Here's the Top Five list, ranked from best to worst, of Taylor-Burton on-screen collaborations:
1. Who's Afraid of Virginia Woolf? (1966)
If the two together made art, this is it. The film version of Edward Albee's landmark play about a middle-aged couple ripping into each other over the course of a long, alcohol-fueled evening, Woolf featured Taylor as a blowsy, foul-mouthed Martha–she gained 30 lbs. for the role–and Burton as hen-pecked, stealth attack artist George. Director Mike Nichols, making his first film, chose to shoot it in black and white at a time when most films were already being shot in color. Taylor always said that Woolf was her best performance.
2. The V.I.P.s (1963)
This shiny rhinestone of a movie is great fun in a trashy, glamorous kind of way. An all-star vehicle about travelers waiting in the V.I.P. lounge of a London airport for a delayed flight to New York, it features Taylor as a wife who's cheating on her mega-rich businessman husband (Burton) with an aging playboy (Louis Jourdan). A young Maggie Smith plays a lovelorn secretary and nearly steals the movie, though she gets a run for her money from Margaret Rutherford, who plays a pill-popping elderly Duchess, a role which earned her an Oscar for Best Supporting Actress.
3. The Taming of the Shrew (1967)
Taylor and Burton tackle William Shakespeare here. While Burton was a Shakespeare veteran, having impressed as Hamlet and in other roles on stage, Taylor had zip experience with the Bard prior to the film. The result, though, is a romp, with the emphasis on yuks and slapstick brawling in this version of Shakespeare's battle-of-the-sexes comedy. The movie was directed by Franco Zeffirelli, who would go on to have a major hit a year later with his youthquake version of Romeo and Juliet. The Burtons produced and helped finance the film themselves, putting up $1 million and waiving their salaries in exchange for a percentage of the profits.
4. Under Milk Wood (1972)
Give 'em points at least for trying. On the strength of their names and popularity, Taylor and Burton were able to get this respectable film version of poet Dylan Thomas' radio play made. In it, the various residents of a small Welsh fishing town reveal their dreams and private thoughts and Burton gets a chance to talk and talk and talk in that gorgeous voice of his.
5.  Boom! (1968)
So bad you almost can't stop watching though it was a huge bomb–the title made it easy for critics to use exactly that pun–in its day. Based onTennessee Williams' play, The Milk Train Doesn't Stop Here Anymore, the movie stars Taylor as a wealthy woman living in seclusion on an island and Burton as a stranger who shows up one day to possibly usher her across the River Styx. The film is highly allegorical and full of symbolism, leading most viewers and critics to feel that it was hopelessly full of hot air.
Taylor and Burton's other films, in chronological order are:
Cleopatra (1963)
A turgid epic in which Taylor plays the Egyptian queen and Burton is her Roman lover, Mark Antony. This one's most notable, besides being a massively expensive turkey, for bringing Taylor and Burton together for the first time. The two, though both married to others at the time, fell in lust and in love while making it.
The Sandpiper (1965)
A gooey romance, this arid drama features Taylor as a free-spirited artist fond of walking on the beach and Burton as the Episcopal priest whom she seduces.
The Comedians (1967)
Don't believe the title. This heavy slog of a drama is based on a Graham Greene novel and is set in Haiti during the reign of dictator "Papa Doc" Duvalier. Burton plays a hotel owner and Taylor a married woman with whom he's having an affair as Haiti crumbles around them. "The movie tries to be serious and politically significant, and succeeds only in being tedious and pompous," critic Roger Ebert wrote of it.
http://www.youtube.com/watch?v=BEMH_drTWSA
Doctor Faustus (1967)
Burton co-directed this film version of Christopher Marlowe's classic play about a man (Burton) who sells his soul to the devil to land the woman of his dreams, Helen of Troy (a totally mute Taylor). It's essentially a filmed version of a production that Burton did with members of the Oxford University Dramatic Society. Reviewing it in the New York Times, Renata Adler dismissed it as "of an awfulness that bends the mind."
Hammersmith is Out (1972)
Returning to the Faustian well one more time, Burton and Taylor teamed up with old friend Peter Ustinov, who directed and co-starred in this ragged comedy about a mental patient (Burton) who bribes an orderly to help him escape. Once on the outside, the nut job teams up with a slatternly waitress (Taylor). "Most of the laughs actually are the result of the blunt use of four-letter words," wrote critic Vincent Canby, reviewing the film in the New York Times. (Language in clip is NSFW.)
The starry duo made two other films, the aforementioned asterisk-worthy entries. In Anne of the Thousand Days (1969), a drama about Henry VIII's (Burton) marriage to the soon to be headless Anne Boleyn (Genevieve Bujold), Taylor turns up briefly in a cameo. She's wearing a mask and speaks only a line or two. And Divorce His – Divorce Hers (1973), a drama examining the dissolution of an 18-year marriage, was a made-for-TV movie. It aired on ABC in the U.S., though it was released theatrically in a few other countries.
The two also starred together on Broadway in a revival of Noel Coward's Private Lives in 1983, which is the centerpiece of Burton and Taylor, airing on BBC America on Wednesday, October 16 at 10/9c.
What's your favorite Taylor-Burton film? 
Read More
Filed Under: