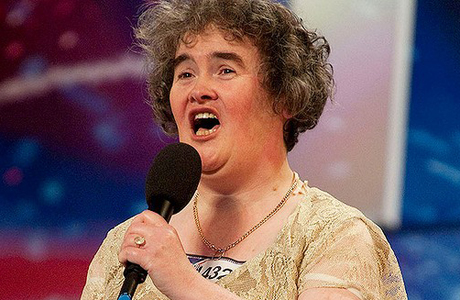 Susan Boyle, the 2009 Winner of Britain's Got Talent, won over the world with her blindsiding, unexpected voice and humbled demeanor. There's been talk of a movie for a while but nothing concrete so far.
The Scottish singer was at a press conference in London promoting her Christmas single, "O Come, All Ye Faithful", and the subject turned to a possible film with her saying, "There are plans in operation for that … watch this space," reports The Guardian.
In 2010 Boyle penned an autobiography entitled The Woman I Was Born to Be: My Story; and her story made it to the stage with the 2012 musical, I Dreamed a Dream, starring Elaine C. Smith.
This YouTube clip of Boyle's first BGT performance singing "I Dreamed a Dream" has already received over nineteen million views but it never gets old.
Here it is again:
Multiple reports, including BBC News, are crediting the momentum of Boyle's story making it to the screen on the success of Paul Potts, who also made surprising strides on BGT, having his early days made into the film One Chance starring James Corden (Gavin and Stacey, The Wrong Mans).
Here's a peek at Potts' jaw-dropping performance on BGT:
Who would you like to see play Susan Boyle?
See More:
Five Great British Talent Show Contestants 
Are You Ready for SuBo: The Musical
James Corden is Paul Potts in One Chance
Read More
Filed Under: