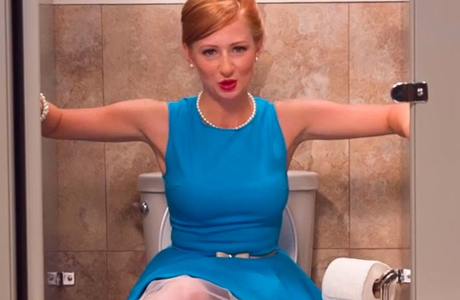 If you haven't yet seen the extended on-line commercial for Poo-Pourri, a product that promises to eliminate the odor of human eliminations when sprayed in a toilet bowl pre-evacuation, you may soon be the only one. In the month since the video, entitled "Girls Don't Poop," was posted, it has been viewed more than 17.5 million times.
The star of the 2 minutes-plus spot is Bethany Woodruff, an Aberdeen-born lass who moved to Utah when she was 18. She currently is a theater major at Brigham Young University in Provo, UT.
In the ad, Woodruff trots out a posh British accent along with a strawberry blond up do, fancy cocktail dress and a tiara to spoof a socialite thrilled to have discovered a product that can erase the evidence of nature having called. "Our business is to make it smell like your business never even happened," she chirps cheerily while seated on a gleaming white porcelain commode.
"I really had no idea that this was going to be my first real big exposure," Woodruff said in an interview last month with the Salt Lake Tribune. "Doing something as comedic and crass as this is not [how] I thought I'd start out."
She says that she has been happy so far with the reactions to the ad. Even better, she says the viewer about whom she was most nervous, her Mum, "absolutely loved it."
Take a look for yourself:
What do you think of Bethany Woodruff's performance?
Read More
Filed Under: