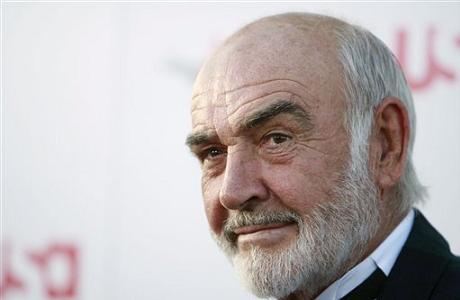 Sir Sean Connery has been determined to be the greatest British actor of all-time, based on the results of the biannual Q Score, which polled an American audience, reports Digital Spy.
How does one go about determining the greatest British actor eva'?
According to the Q Score's website, the value is determined in the following manner: "Derived from our data collection model of the Favorites Concept, Q Scores identify the most enthusiastic consumers of a personality, character or licensed property, program, or brand. This measure of likeability is an important predictor of greater consumer involvement."
The public is invited to take part in a poll, voting via postal mail and online. There isn't an exact science behind it but according to the site, it's recognized as an "industry standard".
Mental Floss takes a deeper examination of the Q Score beginning with what the "Q" stands for, which is simply the mathematical term quotient. Apparently advertisers and media buyers pay attention to theses scores and use them in decision making. You can read about how the calculations are made here.
While Connery may not have been in the public eye so much this year; he's on the public's mind with the Q Score's Henry Shafer saying, "He was not working so much but he had already transcended the normal run of actors in the way people felt about him."
He goes on to discuss British actors' draw in the U.S. saying, "British actors have become more dominant over the past 15 years as they appear in more American movies and TV roles [during] the awards season."
Here is the Top 20 list for 2013:
1. Sean Connery 
2. Anthony Hopkins 
3. Liam Neeson 
4. David McCallum 
5. Daniel Day-Lewis 
6. Judi Dench 
7. Maggie Smith 
8. Daniel Craig 
9. Hugh Laurie 
10. James Purefoy 
11. Benedict Cumberbatch 
12. Robert Carlyle 
13. Eamonn Walker 
14. Colin Firth 
15. Jonny Lee Miller 
16. Jane Leeves 
17. Kiefer Sutherland 
18. Gerard Butler 
19. Lucy Punch 
20. Daniel Radcliffe
Who tops your list of great British actors? 
See More:
The Drawing Power of Michael Fassbender
The Brits Who Defined 2012
Bond vs. Bond vs. Bond vs. Bond vs. Bond (vs. Bond)
Read More