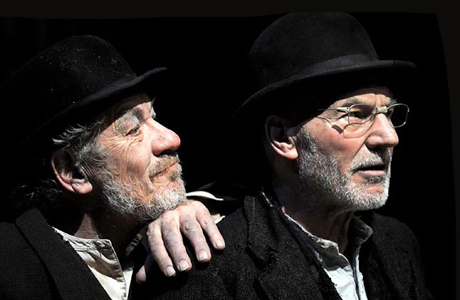 Sir Ian McKellen tells CBS News' Leslie Stahl that he broke down in tears when his and Sir Patrick Stewart's 2009 production of Waiting for Godot came to an end, because he knew he'd miss his friend so much. But, according to McKellen, he wouldn't have predicted such a strong friendship between the two men, as he describes to Stahl in a sit-down interview.
McKellen explains Stewart is from Yorkshire, a county in the Northeast of England, and McKellen is from Lancaster on the West.
McKellen bluntly says, "I don't normally take to Yorkshire."
Stewart just grins, throws his head back and giggles to himself.
McKellen goes on to say, "They can be very dour. And they can be very stubborn."
Stahl puts on her interviewer hat and jumps in, addressing Stewart saying, "You're not going to defend yourself?!"
Stewart starts to speak, but without missing a beat, McKellen keeps going, flipping the switch and describing where he's from saying, "Lancastrians, like me, are chippy. And happy. And like to get on with everybody."
Unfortunately, according to McKellen, "Yorkshire people have to be dealt with."
Finally, Stewart gets his composure and is able to speak, saying, "How Ian has cast us is … accurate."
Stewart goes on to say, "I have to agree with everything he says. There is a famous saying, 'You can always tell a Yorkshireman but you can't tell him much.'"
Stahl joins in the fun, laughs with the two of friends, exclaiming, "You admit to it!"
You can watch the interview in the below clip:
As well, here's a clip on them playing two old friends becoming rivals in X-Men:

Not enough … here's a snippet on Star Trek:
Do you think their real life friendship translates to the screen?
See more: 
Sir Patrick Stewart Gets Married by Sir Ian McKellen
Ian McKellen and Patrick Stewart Are Heading to Broadway
Sherlock Bromance: Sherlock Punches Watson, Watson Punches Sherlock
Read More
Filed Under: