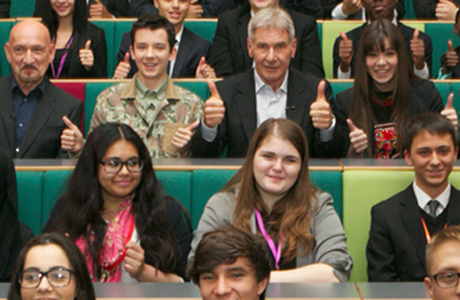 Students of Westminster Academy, in London, England, had no idea what they were signing up for when putting their name down for an after-school lecture. Sir Ben Kingsley and Ender's Game co-stars actors Harrison Ford, Asa Butterfield (Hugo) and Hailee Steinfeld (Romeo and Juliet) made a visit to the school as part of FilmClub's initiative to use film to educate youths, reports BBC News.
Kingsley was keen to sit down with the students saying, "It was very refreshing and good for us to just, for a few minutes in a lovely room with young enthusiasm just reflect on why we do what we do for a living."
Ford talked to the students about filmmaking beyond it being entertaining saying, "We need stories to be able to step away from our own perspective and gain some understanding of what's happening around us."
Director Gavin Hood seemed to have a fun day of it as well, gushing about the visit, "I just think FilmClub is such a brilliant idea and as a filmmaker this is why we make films, to communicate, to interact, to see folks have fun and to talk about things."
The entire Q&A has yet to be released but a video will be posted on the charity's site soon.
Ender's Game, a military science fiction film set in the future, will be previewed at the National Youth Film Festival on October 24, announced at the FilmClub event. The story revolves around Butterfield's character, Ender Wiggin, who is being trained at a military school in the arts of war.
You can watch the trailer below:
The film will be released in the U.S. on November 1.
Any movie stars ever pop at your school? 
See more:
'Hugo's Asa Butterfield and Sir Ben Kingsley to Reunite in 'Ender's Game'
Brit Binge Watching: Five Sci-Fi Dramas You Can View Online
12 British Actors Who Got Started in Soaps
Read More
Filed Under: