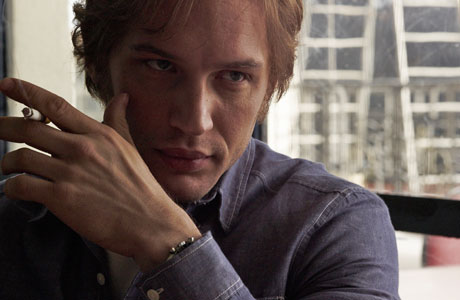 We've been following the pulsating fortunes of Rocketman, the biopic of Sir Elton John's most glorious glory years for some time now, and just like the Queen movie, the biggest obstacle to success lies in picking a suitable leading man.
For a while it was rumored that Justin Timberlake would be doing the honors (although that was never a particularly good idea), especially since he did a sterling job of being '70s Elton in this video:
However, more sensible heads at Rocket Pictures have prevailed, and Tom Hardy has now been cast in the role. You may remember Tom as the oddly-voiced Bane in The Dark Knight Rises, or musclebound jailbird Charles Bronson (not that one) in Bronson, so he clearly has the physical presence and dramatic charisma to deliver a hard-rocking, harder-partying British rock god.
Rocketman—written by Lee Hall (War Horse, Billy Elliot), and directed by Michael Gracey—will tell Sir Elton's story from his earliest days, bashing out tunes on the family piano at five years old. He is also acting as executive producer and owns the production company that is making the movie. Which would normally be a recipe for a self-hagiography, but this is a man who appeared in a documentary made by his now-husband called Tantrums and Tiaras:  Sir Elton is not a man who is unaware of his own faults.
Discussing their new signing, Rocket Pictures CEO Steve Hamilton Shaw said: "Tom is a stellar talent who will add extraordinary depth and nuance in bringing Elton's story to life. We are excited to have such a gifted actor on board."
See more:
Five British Stars: Five Near-Death Experiences
Sir Elton John's Magic Piano Changes Live Music Forever
Ten Great British Songs Performed By Muppets
The Brit List: Five Alternative Sources Of Paul McCartney
Read More
Filed Under: