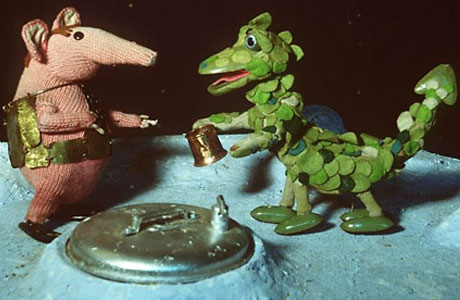 There are times when it seems like all of our childhoods will come back to visit us over and over again, until they belong first to our children, then to their children, with minor alterations each time, until they are virtually unrecognisable in their original form.
If you don't believe me, take a look at the sorry computer-generated nonsense that pass for Mickey Mouse cartoons these days, and tell me that isn't a stark warning to anyone hoping to update a beloved childhood franchise.
So, despite the excitement around recent announcements that Gerry Anderson's Thunderbirds are coming back, that there's a live action Paddington movie in the works, there's a bittersweet shiver that comes with the news that production is about to begin on a new version of the fabulous British animation The Clangers.
We've written about the work of Oliver Postgate for Anglophenia before, but if you've never seen the show, it's a beautiful, whimsical cartoon about these funny, funnel-nosed knitted creatures that live on the moon and talk like swanee whistles.
And if you really haven't seen The Clangers before, please do take the time to watch this clip. It's enough to make a grown man weep for his lost youth.
Peter Firmin, the man who built the original Clangers for Oliver to animate with (in a former cowshed in Kent) is the exec producer on the new version, which will be partly written by Oliver's son Daniel.
He told SFX: "We hope to engage and entertain children of all ages and their families, just as Oliver and I did all those years ago.
"The new series will include great story telling with lots of heart. It will also be technically improved. When you watch the original Clangers you have to make allowances for the limitations of the animation techniques when it was made. It was magical for its time, but this is a new Clangers for a new age!"
And before the heart sinks too far, it's important to know that the new puppets will be given life using good old-fashioned stop-motion animation, and will be made by Mackinnon and Saunders, who made models for the movies Corpse Bride and Fantastic Mr Fox.
The only outstanding question is whether Daniel Postgate can replicate the warm, reassuring tones of his father, because without that, all hope is lost.
See more: 
Colin Firth And Hugh Bonneville To Star In 'Paddington Bear' Movie
All Scottish Children To Receive Free Orchestral CD At Birth
BBC's 'Newsnight' Interviews The Actual Cookie Monster
'The Railway Children' Receives Its First Ever Complaint
Read More
Filed Under: