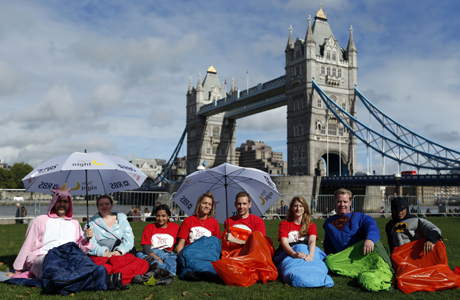 The UK's IT industry, along with friends and other volunteers, are taking part in Byte Night, a 24-hour challenge to sleep overnight in nothing but sleeping bags to raise funds for Action for Children, an organization to support children in care, disabled children and combat youth homelessness.
The group will "sleep rough" for one night, with a goal of raising  £1 million, so vulnerable youths currently sleeping on the streets don't have to. The sleepovers will take place across the UK including London, Cambridge, Birmingham, Manchester, Reading, Edinburgh and Belfast.
The event has been 15 years in the making, raising over  £5 million, and has had direct results as seen in the video from last year's event:
With most everyone at Byte Night, who's holding down the fort:
Photo: You may think that lots of people are needed to make #ByteNight happen, but it's actually just this… http://t.co/26EeDmIiJb

— Action for Children (@aslongasittakes) October 4, 2013
These guys are sleeping rough to show solidarity with homeless teens:
@bathrugby @GuyMercer Missing the match to sleep rough for charity #ByteNight http://t.co/ILliG4Xie3 Any chance of a RT?

— Anthony Hatter (@AntHatter) October 4, 2013
British TV presenter Laura Hamilton tweets her support:
Wishing good luck and good weather to the @aslongasittakes #ByteNight crowd! Help them raise £1million Text Byte13£5 to 70070

— Laura Hamilton (@laurahamiltontv) October 4, 2013
You can follow what's going on throughout the night and take a peek at live photos and updates here. If you'd like more information on the fundraiser and how to make a donation you can go here.
Is this something you might be interested in, if it took place in your area?
See more:
300 Streakers Run Through London Zoo 
British Man Tired of Telemarketers Sets Up Pay-Per-Call Line
What Are Brits Watching?: 'Skint'
Read More
Filed Under: