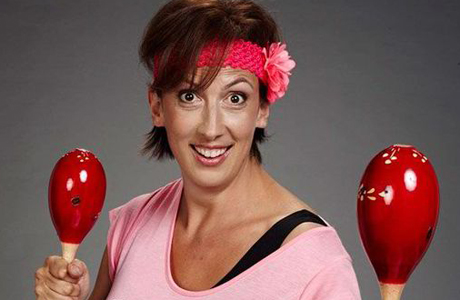 "Get in shape girl, you'll love the feeling. Get in shape girl, it's so appealing." The 1980s theme song for Hasbro's teenie bopper workout gear comes to mind when hearing about Miranda Hart making her very own workout DVD. Well, can you blame us with that photo?
If the 80s are 1) Before your time; 2) You weren't a young girl in the 80s who liked to workout; or 3) You just can't remember the commercial (or have blocked it out), take a peek here to help out with the mental image:
Hart's workout program, called Maracattack, will be available on November 18. It's basically her doing brand new standup material — since she's already standing, she moves her body a little more than usual — getting a decent workout. One might call it exercising.
Lots of people love working out and design their day around getting to the gym. But, then there are the rest of us, who don't. Sometimes it's just a matter of finding an activity you find fun and "tricking" your body into exercising.
Hart has done just that saying, "You will want to exercise. It's about playing, not 'working out' and play helps your body, but also frees your mind. Without giving too much away, it involves maracas, classic pop tunes, and is as much fun as a riotous camp, cheesy disco. There is no need to dread the gym anymore," according to her official website.
The comedienne won't be alone in this task, she's recruited fitness expert Amelia Watts to help us through the warm up, 20-minute cardio session, 5-minute high intensity cardio routine and 10-minute strength exercises. Hart and Watts work out at different intensity levels so viewers can follow at the best pace for them.
The website doesn't mention a cool down session, might we suggest arm curls with say wine bottles as weights. Followed by hand stretches when removing those tricky corks. Followed by repetitive arm stretches, lifting the wine from the table to your mouth. Repeat.
Does this sound like a fun way to stay fit? 
See more:
Miranda Hart Has Her Eye on Hollywood … and Matthew Perry
Miranda Hart to Hit the Road
In Her New Book, Comic Actress Miranda Hart Asks, 'Is It Just Me?'
Read More
Filed Under: