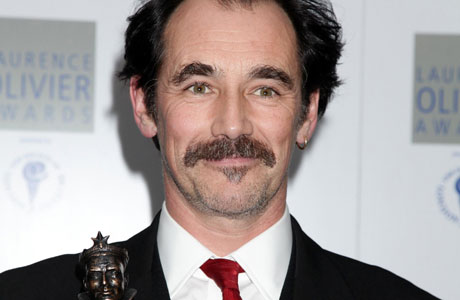 This is a project that appears to have been a long time in the planning, but it's finally been confirmed that Mark Rylance – the theatrical astonishment last seen fending off Stephen Fry's advances in the internationally syndicated Shakespeare's Globe production of Twelfth Night – is to play the lead role in a BBC/Masterpiece adaptation of Hilary Mantel's Wolf Hall books.
It's the story of the rise to power of Thomas Cromwell, born the son of a Putney blacksmith, and eventually (through a series of gruelling events) the most trusted advisor in the court of King Henry VIII.
And it's already a multi-award winning endeavour: the two novels in the trilogy that have been released thus far – Wolf Hall and Bring Up The Bodies – have both won the Booker Prize. Mark Rylance has won the Tony (Jerusalem) and the Olivier Award twice (Much Ado About Nothing, Jerusalem).
The story, which has been condensed into a six-part serial by Peter Straughan (Tinker Tailor Soldier Spy), will be directed by multi-BAFTA winning Peter Kosminsky, in a co-production between Company Pictures, Playground Entertainment, BBC Two and Masterpiece.
Production starts in the spring, and the series should be on air in 2015, by which time the third novel The Mirror And The Light, may have already been released and won even MORE prizes.
Here's Mark in Twelfth Night. He's the one in the dress:
See more:
Mark Rylance, Joanna Lumley Get Tony-Worthy Reviews for 'La Bete'
The Frightening Majesty Of Stephen Fry In Full Rage
Iconic British Things: The Black Cab
Five Great British Comedy Double Acts
Read More
Filed Under: