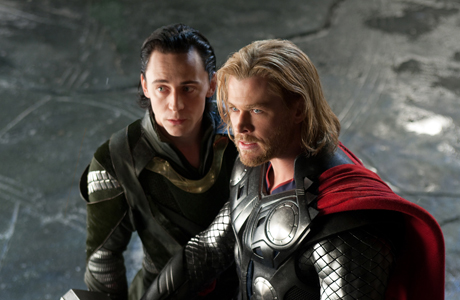 We know Tom Hiddleston the actor is extremely popular but it's rare when the villain of a movie has a cheering section larger than the hero. Rare or not, it just might be happening in the Marvel action film Thor: The Dark World, according to HitFix.
Hitfix points out the fact that Hiddleston has been allowed the chance to be able to play the same character three times within three years, growing a loyal fan base. While his character Loki, Thor's (Chris Hemsworth) adopted brother, is considered "selfish" with "evil intentions", audience members are very forgiving.
Even Hiddleston is surprised by Loki's popularity telling HitFix, "The moment I suppose it landed, the surprise hit me like a train, was in the wake of Avengers. I was starting to understand that something about the character took flight in the imagination of the audience."
Hiddleston chats about playing Loki for the third time, the impressiveness of Comic-Con, fans' reaction and future plans.
You can watch the entire interview below:
We suspect his popularity is a result of a combination of Hiddleston's charm, mixed with Loki's mischievous ways. Oh, and well, the impersonations of course.
What's your theory?
See More: 
Tom Hiddleston Wins Anglo Fan Favorites for Second Straight Year
Tom Hiddleston Sings! Tom Hiddleston Dances!
Tom Hiddleston Can't Be Stopped: Miss Piggy and Kermit Impersonations 
Read More
Filed Under: