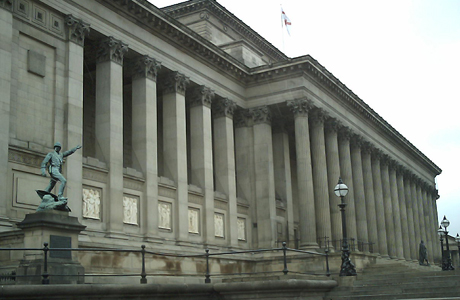 Neil McArdle, 36, of Liverpool, is facing jail time rather than fessing up to his fiancée that he forgot to book the wedding location, reports BBC News.
Like many grooms-to-be McArdle had a checklist and the night before the wedding he realized he had failed to confirm the venue space.
He told Liverpool Crown Court that he couldn't face his fiancée, Amy Williams, which resulted in him calling in a fake bomb threat to St. George's Hall.
McArdle snuck out of his house, went to a public phone box, and called the booking office saying, "This is not a hoax call. There's a bomb in St. George's Hall and it will go off in 45 minutes."
While McArdle and his fiancée didn't have their wedding booked that day, obviously there were other events going on which had to be canceled or delayed due to the building being evacuated.
Once it was clear the space was safe, suspicions grew when Williams and her family realized her wedding wasn't scheduled to take place on that day. Even Williams' sister was overhead saying to McArdle, "You probably done the bomb scare yourself," reports the court.
The phone call was traced back to McArdle; he has expressed pure embarrassment since and admitted to his wrongdoing.
His defender, Charles Lander, told the court: "If it was not so serious, the facts of this case have all the markings of a comedy," reports The Guardian.
The judge didn't see the humor and expressed concern for those on-site saying the threat "must have shook sheer terror in the heart" of the receptionist taking the call, staff and guests.
McArdle could have come clean and explain to his wife that he made a mistake but as the judge points out, "You did not say 'we need to talk'. You tried to weasel your way out by creating a bomb hoax so the wedding would not take place. You have to understand, bomb hoaxes are extremely serious."
McArdle has been sentenced to 12 months in jail; with court costs of £100.
Williams is supportive of McArdle and they are still together.
It's not clear when the wedding will take place.
Have you ever been stuck in a situation and scrambled to get out of it?
See More: 
British Man Tired of Telemarketers Sets Up Pay-Per-Call Line
George Michael Talks Candidly About Jail and Covering New Order
Famous Fakers, From Clark Rockefeller to Hipster Grifter

Read More
Filed Under: