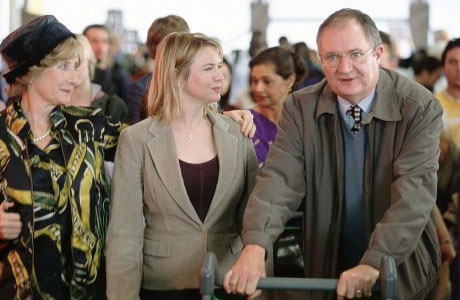 This might be my favorite single aspect of the entire history of Bridget Jones, because it hints at a delightful back channel of conversation between two of Britain's best acting talents, that no one suspected was there before.
So, recently we explained that the new Bridget Jones book Mad About The Boy contains an unfortunate event. Or rather, the book is set in the aftermath of an unfortunate event, in that Mr Darcy, Bridget's dream hunk, has rather inconveniently died.
Of course, this has an impact on the casting of the next Jones movie, in that Colin Firth will not be invited to participate unless there are some flashbacks and dream sequences and stuff.
In an interview to promote his new movie Le Week-End, Jim Broadbent, who plays Bridget's dad, revealed that he found out the sad news via a Bridget Jones grapevine that includes Colin, and Helen Fielding, who is effectively the person holding the smoking gun.
Jim said: "I know, this is a shock, in fact Mr Darcy broke this news to me himself. He'd just had the call from the writer and he was rather shocked, I must say."
Which is a whole world of endearing by itself, given the way Colin's career has blossomed in the past few years.
When asked if he would be returning for the next movie, Jim said, succinctly: "I hope so. I hope that my character is still alive and if he is I hope that he'll be featured in the film and if he is I hope that I'll be playing him."
I just hope there IS a film.
See more:
The Brit List: The Fifteen Greatest Actors Who Were Almost James Bond
The Brit List: Five Good Friday Good Samaritans
Gigantic Mr. Darcy Invades London
10 TV Shows That Explain British Culture Read More
Filed Under: