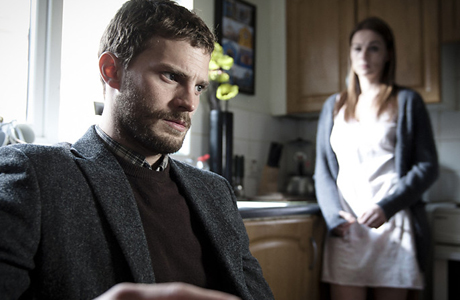 Jamie Dornan has recently been cast as the playboy Christian Grey in the film adaptation of E.L. James' Fifty Shades of Grey. Prior to this recent news, Dornan had appeared in the BBC2 series The Fall also starring Gilllian Anderson.
(Mini Spoiler) At the end of the first season of the detective thriller, Dornan's serial killer character is still on the loose and yet to be caught. Fans of The Fall have been concerned and left wondering, what's to happen to his character with his new responsibilities to Fifty.
Radio Times caught up with The Fall's Executive Producer Gub Neal who says, "We have been talking to Jamie for nine months about his role and The Fall schedule is not affected in any way."
Typically this wouldn't be an issue if the casting was, well, more typical. With Charlie Hunnam (Sons of Anarchy) unexpectedly dropping out of the role, production on Fifty Shades has been reportedly delayed.
Neal attempts to put viewers' minds at ease saying, "We begin filming at the end of January, beginning of February, and it is a 16-week shoot and nothing has changed."
Fifty Shades is set to begin filming in Vancouver, Cananda in mid-November.
If you haven't seen the first season of The Fall, here's a quick peek at Dornan as serial killer Paul Spector, after being out all night:
You can catch up on the entire season on Netflix here.
Are you a fan of The Fall? 
See More:
Five Sexy Book Adaptations We'd Like to See
Brit Binge Watching: Five British Serial Killer Thrillers (Dornan is one of 'em)
A Guide: Who's British on American Fall TV 
Read More