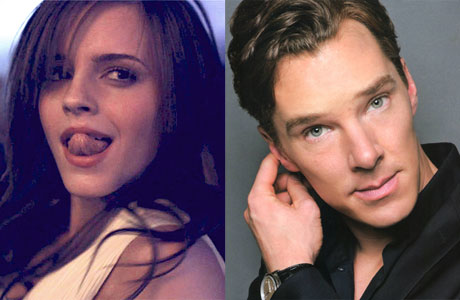 Polls are great, aren't they? You ask a bunch of people to vote on an issue, the most popular answer wins, and we never ever have to ask the question again. It's a marvelous method of clearing out mental detritus of society and freeing the collective mind to prepare for the important issues of the day, and make gifs.
So, it's with great pleasure that I can exclusively report (note: not exclusive) that the film buffs at Empire have tackled the fiddly issue of sexiness among the international fraternity and sorority of acting, and they've come up with a definitive list, for all time. They held a poll, some people voted, and that's that. It's done. Democracy happened, to the benefit of future generations, forever.
Here, then, are the results in their first full flush of freshness, before they become the stuff of future library books.
Top 10 Sexiest Actors:
1. Benedict Cumberbatch
2. Tom Hiddleston
3. Henry Cavill
4. Ryan Gosling
5. Robert Downey Jr
6. Chris Hemsworth
7. Robert Pattinson
8. Michael Fassbender
9. Hugh Jackman
10. Bradley Cooper
And without further dudes, here's the female equivalent:
Top 10 Sexiest Actresses:
1. Emma Watson
2. Scarlett Johansson
3. Jennifer Lawrence
4. Kristen Stewart
5. Anne Hathaway
6. Emma Stone
7. Mila Kunis
8. Natalie Portman
9. Angelina Jolie
10. Zoe Saldana
So there we are. A momentous day that was long in coming and, when it finally arrived, did not disappoint.
How will you tell your grandchildren about this day? Tell us here: 
Read More
Filed Under: