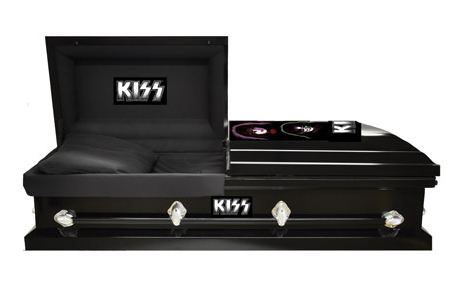 No matter who or where you are, it's a fact that death comes for us all, but what are the options for your mortal remains if you end your days in the U.S. or the U.K.? There are two main choices of course, though figures show that the current trend is steeply in favor of cremation over burial.
In Nevada, that preference gets as high as 72 percent, according to special U.S. cremation service The Neptune Society, though attitudes about exactly how you'll be buried do vary across the Atlantic.
The British attitude to funerals—and the whole concept of "mourning"—is perhaps still very much rooted in Victorian times, when Queen Victoria famously wore black for the rest of her life following the death of her husband Prince Albert. Society manners dictated that the people in the street—her subjects—wore mourning clothes too, and black clothes and hats are still de rigueur for such as occasion.
Even in Victorian family homes, it was common to place gifts of beautifully woven hair from still-living family members in the coffin, and unsmiling family portraits—complete with a dressed but dead child—were normal in a time when children often died young. Things have changed since then, of course, but that solemn cloak still hangs over the whole aspect of death and funerals in the U.K.
In the U.S., things are rather different. The "Cemetery Services" business has always been highly competitive, and one major difference is that it has long been common practice for funeral homes and crematoriums to give out free gifts.
We're not talking about a tasteful annual calendar, though; even today, you can still find yourself the recipient of matchbooks and hand fans (admittedly very useful for funerals in the hot Southern States), though of course they all have the requisite phone number and details written on them, because one day you'll inevitably need their services.
Bizarrely, past gifts even included such things as gun-shaped combs, ice tongs, shrimp forks and pocket mirrors, money clips and knives, though this whole marketing aspect would be something that many Brits would find quite alien and unacceptable.
Part of the reason for this is that the U.S. funeral business is dominated by several corporations, something that the U.K. can't support. (The U.S. cemetery services industry took in an estimated $3 billion in revenue in 2013.
Perhaps the biggest difference though, is that Americans tend to be less bound by social conventions, so it isn't seen as unusual for someone to, say, build their own Pabst Blue Ribbon casket—it's their choice, and good luck to him.
More unusual places you could spend the afterlife—at least in the U.S.—include The Neptune Society's Memorial Reef, which is found around 40 feet under the water off of Key Biscayne, Florida, and is the biggest artificial reef in the world.
Still under construction and yet to reach its full size—16 acres, with space for around 125,000 burial plots—it's a impressive underwater show of lions, columns and arches, and a map showing the layout wouldn't disgrace Long John Silver. Families can visit by boat, snorkel or scuba tank, and in this ecologically-aware age you could argue it beats the more traditional rotting park bench or moss-covered gravestone.
Also, legal in seven states—but not yet where it was invented and originated, in Glasgow, Scotland—is the Resomator, a final soak in a special bath filled with water and potassium hydroxide, heated to 350 degrees Fahrenheit and subjected to 145 pounds per sq inch of pressure. After a few hours you're just greeny-brown goop and soft bones, which can then be crushed into dust to be urn-ready.
Donating to science is something that can be done in both countries, and the idea of "Natural Burials" in a biodegradable coffin without embalming is available too, though the more recent innovation of "Death Cafés" has seen people in the U.K. and the U.S. coming together in homes, cafés and restaurants and talking about their "end of life" plans.
More coffee and cookies than doom and gloom, they promise a frank talk about everything associated with life and the hereafter as part of a movement to make the subject far less awkward and taboo. Unsurprisingly, U.S. funeral service companies are starting to hold similar events too—though they often come with a free lunch and sales posters.
Whether you stay in the U.S. or return to the U.K., the decision about what you want when the end comes is yours. If you want a quiet, leafy cemetery you'll be well taken care of in either country, but if you want something more personal like a casket featuring your favorite band, or decorated looking like bacon and with a bacon air freshener inside, then you're probably happy to have the U.S. as your final resting place.
Would you like a traditional burial or something a bit more flashy? Tell us below:
See more:
Brits in America: How to Cope with Loss of a Loved One Back Home
10 Things Americans Love About Brits
10 American Foods Brits Will Learn to Love
Read More
Filed Under: