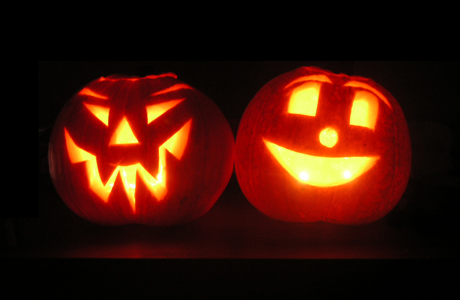 Halloween in the U.K. is a scary affair, and not because of all the ghosts, witches and ghouls. Sensible folk hunker down in their homes with the lights off, hoping to avoid confrontations with the gangs of aggressive teens that knock on doors in unimaginative fancy dress demanding sweets or money. Authentic trick or treaters (the under-10s) are usually chaperoned by anxious parents, who fear that behind every door lurks a potential child snatcher. Brits are essentially a gloomy, underwhelmed bunch, so not a good fit for a creative, upbeat celebration like Halloween.
In America, it's all a bit different. People here actually look forward to October 31 and throw money at it. They decorate their houses weeks before the big event. Stoops and yards are festooned with pumpkins and other auxiliary gourds, while fake cobweb, plastic spiders and homemade zombies take over porches. It's like Disneyland's haunted house mated with a craft shop.
Children's Halloween parades are unique to the U.S. and a wonderful way to get your kids involved, especially if you're not comfortable with them knocking on your neighbors' doors and asking for goodies. You will, however, need to buckle down and make them costumes fit for a Harry Potter movie. If you want to buy off the peg, try Etsy, Amazon or a Halloween pop-up store.
In the U.S., fancy dress preparation is a full-time pursuit that starts around late September. And that's just the kids. Adults can spend months planning, then sourcing or sewing the perfect costume. It's no good dusting off your little black dress and claiming to be a "sexy witch" in these parts. Oh no. Your get up should be terrifyingly imaginative, perhaps cleverly referring to a zeitgeist, meme or recent news event. Yesterday, I heard one Brooklyn hipster telling another he's planning on dressing up as "The Shutdown of Congress." His friend, clearly put out, said that might be awkward because he'd already decided to go as a "furlough." Very Buzzfeed, I'm sure.
One small but significant area of crossover in the U.K./U.S. Halloween experience is the celebration style of the under-30s, i.e. partying and drinking. But Americans even do this bigger and better than us. For Brits, a Halloween bash is just another excuse to drink, vomit on a pile of coats (me circa 1999) and howl loudly like a werewolf on the way home. Here, what's always evident is the party throwers' commitment to detail. There's apple bobbing, imaginative finger food that actually looks like severed fingers, and absolutely no one has patched together a last-minute costume from things they found in a cupboard.
Most Brits lack the dedication and sincerity needed to plan a truly excellent Halloween party. Americans, as you'd expect, would host nothing less.
What are your Halloween plans this year? Tell us below:
Join @MindtheGap_BBCA on Twitter this Wednesday (October 30) at 2 pm ET for an open discussion for British expats in the U.S. Ask us anything, and we'll try to answer it. Tweet us using #MindTheChat.
See more:
Thanksgiving Notes for Brits
10 Things for Brits to Know Before Hitting the U.S. Roadways
10 American Public Holidays Brits Should Know
Read More
Filed Under: