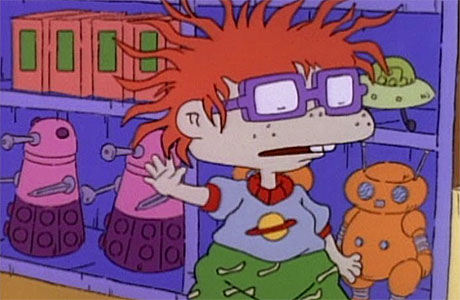 If you work in a creative industry, and you happen to be Whovian in your tastes, chances are some of that reality is going to come out in your work. This is equally true of cake bakers as it is of people who make television programs and movies.
So, having already listed the direct TV spoofs of Doctor Who, here's a fairly huge list of TV shows, books and video games that have just thrown a little reference to the Doctor, his enemies, the TARDIS, or even actors who have appeared in the show, into their work.
Note: Where possible there are clips, but some of them will have to be links.
Saturday Night Live
In this skit from 2005, Paris Hilton had a sex line for nerds, and Tina Fey and Amy Poehler are manning the phones. Will they mention Doctor Who? It is just possible…
Late Night with Conan O'Brien
The opening credits once featured a very familiar sight.
The Big Bang Theory
It's fair to say that Sheldon, Leonard and co. are very fond of a Gallifreyan namedrop or two. Including this, from last week:
http://www.youtube.com/watch?feature=player_embedded&v=FDblB4DLaPI
The Late Late Show with Craig Ferguson
Important points to consider: Craig's a huge Whovian, has a TARDIS on his desk even when he's not interviewing Matt Smith or Karen Gillan or Alex Kingston or Jenna Coleman, and used to be in a band with Peter Capaldi.
And on November 16, 2010, he dedicated an entire show to Doctor Who, including this song (which had to be cut for rights reasons, and was aired at a later date).
NCIS
In "Power Down," McGee sort of explains Doctor Who to Dinozzo, while investigating a crime.
House M.D.
"That's when classic Doctor Who comes on the BBC." You noticed! *swoons*
The Great British Bake-Off
This year's cooking competition featured a blue Dalek design that scuppered chef Rob's chances of progressing through to the final. He'd have been better off inviting the judges to try eating a real Dalek.

Grey's Anatomy
Season 8 Episode 4 is a true geekfest, with conventioneers getting seriously injured in the crush to meet Russell T Davies, and a storyline about a rare TARDIS.
CSI: New York
What, you think hard-boiled forensics experts only watch Sherlock? Nu-uh!
Carry On Screaming (1966)
Yes, they actually named a character Doctor Watt, so they could reanimate the corpse of that Abbott and Costello routine about baseball, only with a Whovian twist. The movie also features future Third Doctor Jon Pertwee.
Family Guy
They put a Doctor Who reference in a Star Wars spoof! That's some deep Jedi nerd skills. And that's after Peter Griffin named an owl "Doctor Hoo," and Brian claimed that one of the key benefits of legalizing marijuana in Quahog is "Doctor Who ratings are through the roof!"

The Rugrats
Pink Daleks? Also, there's a rumour that the character of Tommy Pickles was supposed to be a baby version of the Doctor: hence he always had a screwdriver in his diaper, took his friends on adventures, had a dog, sometimes travelled in a big machine… only it was a green dinosaur. And he has a haircut like Nine.
Phineas and Ferb
A subtle, but definite Doctorwards tip of the hat.
Castle
Whoa, whoa, WHOA, HORSEY: Do I sense levity? Are those barbs pointing at me? Is a mere crime procedural mocking Doctor Who? THIS WILL NOT STAND!
Leverage
A later episode would lob in a brief "bowties are cool" and even some of the Who theme, but this is the best Doctor Who reference in Leverage, because only proper Whovians would get that it even IS a reference.
Criminal Minds
http://youtu.be/f1TjjvZUYHM
Criminal Minds LOVES Doctor Who. There are cosplay references and TARDIS references, but this little back-and-forth is the best, most passionate defence of the best TV show in all of space and time. And space.
Queer as Folk (UK Version)
Written by? Exactly.
Eureka

This isn't even the only TARDIS reference ever to grace a Eureka script.
Middleman
Benton? Zygon? McCrimmon? Periperpugillium? LETHBRIDGE-STEWART!?
Neighbours
Doctor Who is huge in Australia. Has been for years, and so it should be no surprise at all that they throw little references into their soap operas.
And it's not just TV shows and movies that like to give Whovian shout-outs. There are books too:
Curse of the Spellmans by Lisa Lutz
Contains this extract:
"I love the tenth Doctor," Rae said after we watched our sixth episode of Doctor Who that day. Interestingly, the actor playing the doctor had changed between the first season and the second. The transition was remarkably smooth. Still, I wasn't as convinced of the tenth Doctor's superiority over the ninth as my sister was.
"You only like the new Doctor because you think he's cuter than the first," I said.
"He is cuter."
"No, he's not," I replied. "In your opinion he's cuter. But it's not an absolute truth."
The Inheritance Cycle by Christopher Paolini
There are numerous references in this series, as Christopher has been happy to confirm:
In Brisingr, Arya doodles "Adrift upon the sea of time, the lonely god wanders from shore to distant shore, upholding the laws of the stars above."
In Inheritance, Angela, the herbalist, is knitting a blue hat with runes around the edge. When asked what the runes say, she responds: "Raxacori—Oh, never mind. It wouldn't mean anything to you anyway."
Oh would it not? Are you SURE?
Then there's this magazine cover that happened:
And over in the gamer corner:
Mass Effect 3
Is that a sonic toothbrush?
And Borderlands 2 has a character skin called "Rose Tailor," and a character named "Handsome Jack" who gives this list of dead factory workers. Sound familiar?
And as a grand finale, here's a Comic Relief skit that was filmed after "Runaway Bride," but before the full return of Donna Noble. As it's a Lauren Cooper sketch, this counts as a Whovian reference, rather than a full spoof. And it's glorious:
See more:
'Doctor Who': 11 Great Child Characters
'Doctor Who' – Why is the TARDIS Set So Iconic?
'Doctor Who': A Companion To The Tenth Doctor
The Complete 'Doctor Who' Library: 12 Must-Own Books
Read More
Filed Under: