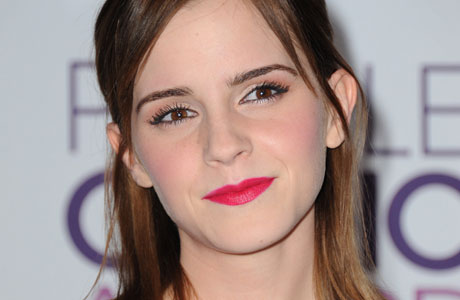 It's not been a bad week for the former Harry Potter stars. We've had Rupert Grint's viagra overdose, Daniel Radcliffe seems to have attracted the attentions of Katy Perry, and now details of Emma Watson's latest movie project have been unveiled, and it seems she's making one of those Freaky Friday-style age-swap adventures.
Stephen Chbosky, who directed Emma in The Perks of Being A Wallflower, has signed her up to star in While We're Young, the tale of a 75-year-old woman whose affiliation with her 29-year-old granddaughter leads her to make a birthday wish that she was that age again. And of course, the wish comes true.
It's an adaptation of the novel 29, by Adena Halpern, and should come out after we've seen Russell Crowe's biblical epic Noah, and Your Voice In My Head, based on the memoirs of writer Emma Forrest.
And while we're on the current whereabouts of the former pupils of Hogwarts School, Emma's old friend Daniel Radcliffe has put to rest the idea that he might be making an appearance in JK Rowling's new Potterverse. He says he'd be more than willing to don the specs and fake scar one more time, but he's not sure how it will work, as her new movie Fantastic Beasts and Where to Find Them is set in a time before Harry Potter was even born.
He told The Hollywood Reporter: "I don't think I'm going to be coming back, we can't be doing these characters when we're 40, so there has to be a line drawn.
"I never know what Jo (Rowling) is going to write, but, at the moment, I'm in the same position that everyone else is in – waiting to hear what information is coming out because I don't know anything about these new films."
"If time travel rears its head again, I'll be intrigued to see what she does."
See more:
Brit Binge Watching: Five Dame Maggie Smith Films Available to View Online
British Drinking: Five Great Fictional Pubs
WATCH: Simon Pegg Wishes Harry Potter 'Happy Birthday' as an Intoxicated Ron Weasley
JK Rowling Explains This Whole 'Robert Galbraith' Thing
Read More
Filed Under: