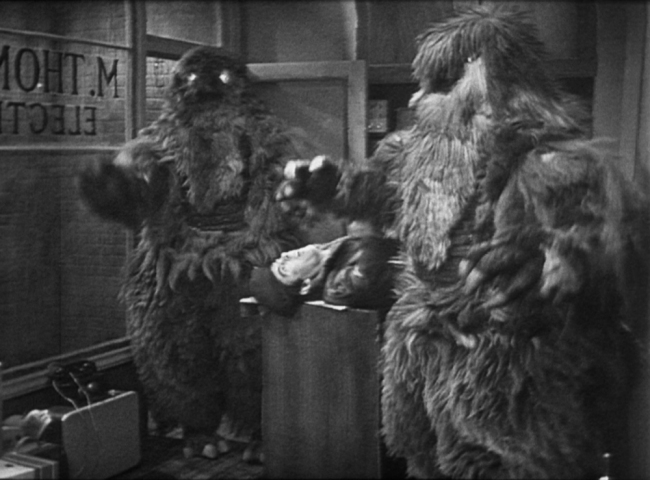 Well, what an exciting week THAT was!
For Doctor Who fans, the announcement on Thursday that two of the previously lost Second Doctor adventures had been found on a shelf in Nigeria, and would be available to download on iTunes immediately, was akin to getting a second Christmas on their birthday.
And the fact that "The Web of Fear" not only contains the first appearance from a certain Alistair Gordon Lethbridge-Stewart, but an attack of the iconic Yeti — fueled by the Great Intelligence – in the London Underground, just adds an extra layer on an already towering cake.
And did anyone else get a bit giddy over this clip in particular, given that it once again hammers home the strong relationship between Matt Smith's Doctor and that of Patrick Troughton — long-johns and all?
In support of the downloads, the official Doctor Who site offers a summary of both "The Web of Fear" and "The Enemy of the World", plus a full explanation as to why certain episodes are missing in the first place.
And you can check out a helpful infographic to show the full history of the missing episodes since they were first chucked out, and where they ended up.
And here's an interview with Philip Morris, the hero of the hour, who actually found the lost reels:
Oh, and one last note: Mark Gatiss is so smitten with "The Web of Fear" that he has set a new Sherlock adventure in the London Underground.
He told reporters at the press conference announcing the return of the lost episodes: "The first episode of Sherlock, because I am obsessed with the Tube and I think it all comes from that story when I was a kid, is explicitly about the London Underground for exactly that reason."
Here's what else has been going on in space and time this week:
• Peter Capaldi is already shopping for his new costume with the Doctor Who wardrobe people, and Steven Moffat is keeping well out of it, as his track record in these matters is, by his own admission, not great. Here's what happened when Matt Smith suggested a certain item of neckwear:
"Matt said 'I should be a boffin, I think I need to go with the bow tie' and I said 'No, absolutely not, you're not wearing a bow tie – that's a cartoon idea of what Doctor Who is… Oh, you are going to wear a bow tie — you look incredible in it.
"And from that moment on he suddenly came to life, and he put the tweed jacket on and suddenly he's leaping round the room with a biro pen and that was it — he was the Doctor."
• And while we're on new Doctors, remember the often-repeated rule that Time Lords can only regenerate 12 times? Well that's going to become hard to stick to, if Doctor Who is to last another 50 years. But Peter Davison claims the matter is in hand, and that, as usual, Steven Moffat has a plan.
He told the Telegraph: "I know people are worried about it, but I think there will be a way around that rule. I know that Steven has put in the groundwork already in an episode so that there can be more."
And what groundwork might this be? Well, according to Steven himself, we've all done our sums wrong:
"I think you should go back to your DVDs and count correctly this time; there's something you've all missed."
A comment that Radio Times has thrown open to Whovians to try and help decode.
• Entertainment Weekly reports on an interview that director Ben Wheatley did with Screen Daily in which he says that he's directing the first two episodes of the upcoming season. "I've been watching the current run of Doctor Who with my son and have discovered it all over again," Wheatley said. "The work that has been done is amazing. I'm really looking forward to working with Peter Capaldi and finding out where [Doctor Who executive producer] Steven Moffat is planning to take the new Doctor."
• Lindsay Duncan recently gave us an interview, in which she expressed dismay that her character from "The Waters of Mars" can't make a comeback.
• Here's a particularly delightful TARDIS infographic set, that brings together everything we know about that blue box so far.
• Gavin & Stacey star Joanna Page talks about filming and feeding on-set for the 50th.
• Eleven fictional characters who could totally be Time Lords.
• Watch is launching Doctor Who: The Doctors Revisited to take fans through the landmark moments of each Doctor.
• Never mind why America loves Doctor Who (for a second), here's why Doctor Who loves America according to Steven Moffat, Matt Smith, Karen Gillan, and others.
• 5 Classic Who companions WhatCulture would like to see reappear.
• The Whatties also have a big roundup of the recent Big Finish audio adventures.
• A Karen Gillan interview in which she says this: "I miss Scotland, yeah, of course. I miss everything being fried. Most of all I miss deep fried pizza. I don't know why they don't fry pizza anywhere else. It's perfect."
• And a brief interview with the similarly Scottish Dougray Scott (from "Hide").
• BuzzFeed made a list of people all Whovians should follow on Twitter (and left off @Anglophenia, the swines!)
• Australia's getting another Doctor Who pop-up shop.
• In this recently-rediscovered interview with William Hartnell, he talks about becoming typecast as the Doctor, and the difficulties of acting with Daleks: "They were difficult to play to, because you're not looking into human eyes, you're looking at a metal object."
• Digital Spy have a roundup of Doctor Who stars in the movies.
And to finish, there's a poll over at Doctor Who TV for fans to pick the ultimate Doctor Who story so far. It's a very thorough affair, in which you can nominate any five adventures from one Doctor at a time, and then there will be a second round once they've compiled a list and more voting and so on.
Currently they're on the first five Doctors.  Pick one, and get started:
The First Doctor, the Second Doctor, the Third Doctor, the Fourth Doctor and the Fifth Doctor.
TTFN!
Read More
Filed Under: