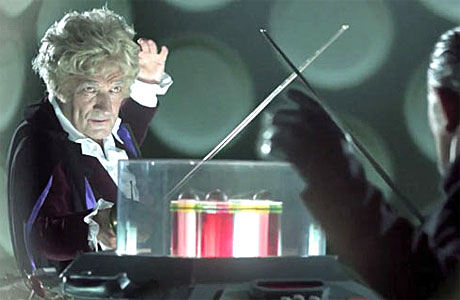 We are still a solid month away from the Doctor Who 50th anniversary special, and already fans are wondering about what is going to happen, how it is going to work, and what it will mean for the Christmas special in which the Eleventh Doctor regenerates into Peter Capaldi, with an intensity that beggars belief.
So while some teams of Whovians are hard at work debating whether the John Hurt Doctor is actually an older version of the Eighth incarnation at the end of the Time War, and bickering over what he did that wasn't "in the name of the Doctor (given that the Doctor has openly admitted being responsible for the deaths of all of the Daleks and all of the Time Lords already) others are poring over the 50th anniversary tribute video that was released over the weekend, and trying to list all of the references hidden inside.
Here's the video:
And here's the Telegraph's interpretation, with the Mirror close behind, and some of the things that Metro spotted, with Radio Times adding their finds to the list.
And here's the Doctor Who website behind-the-scenes shots, that also help to mop up some of the extras.
And this comes hard on the heels of the huge debate surrounding Steven Moffat's assertion that the Doctor can definitely only regenerate 12 times, and that fans have done the counting wrong if they believe he's running out of new incarnations.
This is in addition to the more general wrongness of people saying the Twelfth Doctor must therefore be the last one. Clearly 12 regenerations gives you thirteen Doctors, that's not timey-wimey, that's math.
Definitely a good week to be an argumentative Whovian then. And if all the speculation is getting too much, here's what else has been going on in space and time:
• DoctorWho.TV has announced where you watch "The Day of the Doctor" in 3D, with a handy interactive map.
• An Adventure In Space And Time will recreate some of the missing Doctor Who episodes like "Marco Polo" (although not, sadly, in full).
• The complete Doctor Who library. 12 Who books (or series of books) you must own.
• Waris Hussein, the first Doctor Who director, said he and BBC didn't think the show would take off. Which just goes to show how wrong you can be.
• There will be a Doctor Who Royal Event happening on 18 November at Buckingham Palace.
• Ben Wheatley is directing two episodes of Doctor Who, which as prompted Digital Spy to think of seven other big-name directors they would like to see an ep or two of Who from, including David Lynch!
• Vote on the ultimate Doctor Who villain.
• Tumblr's own benedictbooty, whose dad made a TARDIS bookshelf from scratch:
• A brief, but lovely interview with Gavin & Stacey's Joanna Page about "The Day of the Doctor," in which she says, "I was recovering from a caesarean but I still got on the back of a horse with David Tennant."
• Speaking of whom, David Tennant says he was tempted to put a bet on Peter Capaldi as the next Doctor (and on the final outcome of Broadchurch), but was scared he'd be found out.
• And, quite by coincidence, author Jenny Colgan has revealed that her favorite Doctor is David Tennant.
• An interview with John and Carol Barrowman about their novel Bone Quill, in which John says, "I can't sit still so it's best if I'm kept busy. We've got too many ideas not to put them into print."
• Neve McIntosh is excited to work with Peter Capaldi
• Who wants to see a TARDIS-themed Mini Cooper in Texas?
• Steven Moffat says TV is better than film and here are five reasons why.
• Tumblr user fallen-sparrow made this really lovely "Save the Day" graphic for the 50th

• 10 Times the Doctor should have regenerated, according to WhatCulture.
• They also have 11 iconic things from the Eleventh Doctor 
• 10 memorable episodes and the lessons we learned from them.
• And a list of the many Doctors that weren't actually Doctors.
• Whereas Digital Spy has a list of 5 Actors who were almost the Doctor.
• Here's a great source for Australian fans to find out about all of the Doctor Who events that will be happening in preparation for the 50th
• Sean Pertwee (son of Jon) has been larking about with Peter Capaldi, pretending to spot monsters. Here's a pic from his Instagram:
• Second Doctor fans can listen to a podcast in which Frazer Hines and Deborah Watling (who played Jamie and Victoria) discuss the return of their missing episodes.
Let's end with a moment of pure delight, when this Ten cosplayer emerged from his TARDIS at New York Comic Con:
TTFN!
Read More
Filed Under: