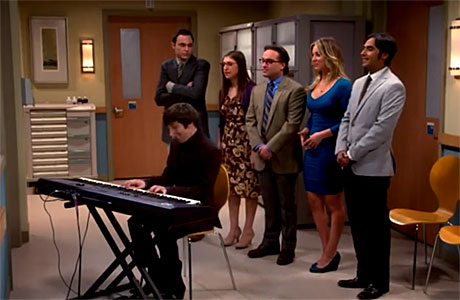 The Big Bang Theory has been more than kind to Doctor Who over years, with the show forming part of Sheldon Cooper's Saturday morning routine, providing costume ideas for Stuart the comic book store owner, and even being a catalyst for romantic friction between Sheldon and Amy Farrah Fowler.
And this week, as a particularly delightful cherry atop the cake of geek love, Doctor Who became a principal, if brief, lyric in this song of love between Howard Wolowitz and his wife Bernadette, as she finds herself trapped in an isolation ward.
This is cute on an intergalactic, inter-temporal level:
http://www.youtube.com/watch?feature=player_embedded&v=FDblB4DLaPI
Here's what else is going on in space and time this week:
• The Doctor Who Facebook page has launched a new feature allowing you to put your name and face in the opening credits of Doctor Who as a personalized invitation to your friends to watch the 50th anniversary special on November 23.
Here's a bit more on it via Doctor Who.TV.
• Which Doctor Who monster are you? Take BBC AMERICA's quiz.
• Stylist has compiled their 20 greatest fashion moments of Doctor Who.
• Doctor Who will be taking part in this year's BBC Children in Need telethon, on November 15. No firm details as yet, but keep an eye on the official site for more details.
• Yesterday was Matt Smith's 31st birthday! Here's a tribute from Digital Spy.
This one is by us: 11 great child characters in Doctor Who.
• New pictures have been released from An Adventure In Space And Time, including this one, of the filming of the first time the Doctor and Susan met the Daleks:
And then there were these clever vintage-style posters:
• Digital Spy salutes the Fourth Doctor adventure "The Talons of Weng Chiang."
• The Telegraph is counting down the 50 best Who adventures, 10 at a time: Starting with 50—41.
• WhatCulture's 10 awesome Who stories for people who can't wait for the 50th Anniversary.
• And 10 actors who should play the Valeyard (including Cumberbatch, B.).
• As it's clearly TV crossover week, how about these TV credits, as if Doctor Who were Magnum P.I.?
• You can pre-order a replica of the Fourth Doctor's scarf here.
• Steven Moffat says Matt Smith wanted to stay on, with David Tennant by his side.
• Five questions Professor Brian Cox should answer on his special The Science of Doctor Who.
• 25 Doctor Who Halloween costumes inspired by cosplayers.
• "Sentimentality meets self-pity, and it's not just his sonic that has a touch of the blues." – a companion to the Tenth Doctor.
• 6 Interesting moments in the 50th trailer
• OK, what if the Fifth Doctor era had credits like Mama's Family?
• Ten's sonic screwdriver remote replica is now available for purchase.
• Paul McGann says he is definitely not going to be in the 50th, and he's "a bit gutted" about it
• Speaking of whom, here are 10 things WhatCulture wants to see in "The Day of the Doctor" (although it doesn't look hopeful for #8, given the story above.)
• They also rated the title sequences, since the start.
• Here's an oldie but a goodie, Doctor Who as if it were Buffy the Vampire Slayer:
And for those who want a Halloween fright, the Season 6 credits in the style of American Horror Story:
• Buzzfeed have been trawling the web for TARDIS interior concept art that the Doctor should really consider for his next refurbishment. Like this: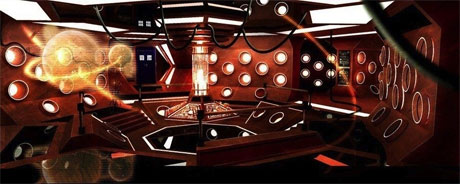 • Which leads to another one of ours: Why is the TARDIS set so iconic? 
• 12 times Doctor Who fangirled Star Trek
• Christopher Eccleston also happens to love the original Star Trek series.
• Let's go out with a final crossover clip. The website TV Cream commissioned a roundup of the 12 Doctors, and got Peter Dickson—the TV voiceover guy in the U.K.—to lend his gravelly tones, as if it was an episode of The X Factor:
TTFN!
Read More
Filed Under: