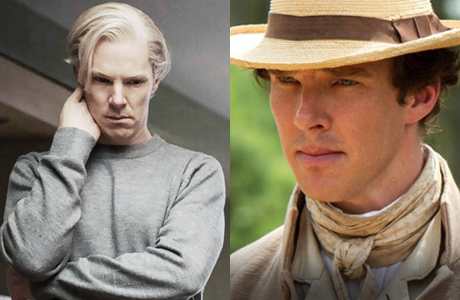 If 2013 is the year of Benedict Cumberbatch, then this is the week in that year that his star is shining its blindingly brightest.
That's because the fast-rising British actor has two movies opening this Friday (Oct. 18): The Fifth Estate and 12 Years a Slave. What makes all this even more notable is that for the first time, with Fifth Estate, the Sherlock star has the leading role in a major movie.
In the true-life drama, Cumberbatch portrays Julian Assange, the Australian-born founder of WikiLeaks. The movie, which clearly took partial inspiration from The Social Network, covers the early days of WikiLeaks and the increasing disagreements between Assange and a close colleague (played by German actor Daniel Brühl) about how and when to leak documents.
Festival screenings of the film have drawn mixed reviews, but critics are united in praising Cumberbatch. Entertainment Weekly's Owen Gleiberman, a fan of the movie, wrote, "Cumberbatch, in stringy long white-blonde hair that looks a bit too much like the wig it is, does a commanding impersonation of Assange's imperiousness, his whole louche Continental narcissism. His Julian is handsome in a scowling way, with a pout of aggrievement fixed on his soft, pale, babyish features, and the actor lowers his voice to a slightly slurry bass register, as if he were so full of venom that it had depressed him. Yet Assange is also quick-minded and fierce. He's a real contradiction — a reptilian idealist."
Nigel Andrews, reviewing in the Financial Times, praised Cumberbatch's performance, saying, "He is excellent as the WikiLeaks founder–slippery, quicksilver, creepy, passively despotic–in a movie that without him would resemble The Social Network done over by Len Deighton."
In 12 Years a Slave, a sure Oscar contender for Best Picture, Cumberbatch has a supporting role. Based on a true story, the movie follows Solomon Northup (played by fellow Brit Chiwetel Ejiofor), a free black man living in upstate New York who was kidnapped and sold into slavery in the deep South in 1841. Cumberbatch turns up early but memorably in the movie, employing a Southern accent for his part as a relatively sympathetic plantation owner who acquires Northup as a slave.
Here, Cumberbatch discusses his role in the movie:
But wait, there's more. The busy, busy, busy Cumberbatch will also pop up in a prominent supporting role, in August: Osage County, which opens Dec. 25. In this film version of Tracy Letts' Pulitzer Prize-winning play about a spectacularly dysfunctional, extended family in Oklahoma, Cumberbatch again sports an American accent as he appears alongside Meryl Streep and Julia Roberts. He plays a bumbling, insecure ne'er-do-well involved in a secret affair with his cousin (portrayed by Julianne Nicholson).
These three films come on top of Cumberbatch's attention-grabbing turn earlier this spring as the nasty villain, Kahn, in Star Trek Into Darkness, and yet another season as every discerning viewers' favorite detective on PBS' Sherlock.
We have just one question: does the man ever sleep?
Which of these three upcoming Cumberbatch films do you most want to see?
See more: 
Now Busy Benedict is Giving Acting Lessons
Watch: Behind Wikileaks in 'The Fifth Estate' Featurette
WATCH: Chiwetel Ejiofor on the Brutality in '12 Years a Slave'
Read More
Filed Under: