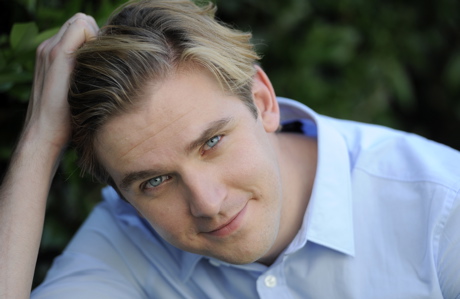 Dan Stevens, the blue-eyed British heartthrob whose departure from Downton Abbey at the end of last season left many fans feeling bereft, turns 31 this Thursday, Oct. 10.
The actor, who played likable Matthew Crawley on the popular period drama, quit the show after the third season when his contract ended. He has since moved to the New York area to appear on Broadway in The Heiress and then acted in three movies. He has also slimmed down, losing more than 25 pounds.
One of those films, The Fifth Estate, a biopic about WikiLeaks founder Julian Assange, opens this Friday. Fellow rising British star Benedict Cumberbatch plays Assange while Stevens has a supporting role as a London journalist.
Asked last month by New York magazine's Vulture site if he planned on watching the new season of Downton Abbey, which began airing on ITV in the U.K. in late September, Stevens said, "Yes, but I have to wait until January like everybody else, and watch it on PBS, because I live in America now." He added, "I'll be watching it in sort of two ways: both watching my friends on the set that I know very well, but also just continuing the story of Downton and watching it as a fan. It will be fun."
Stevens discusses Fifth Estate last month at the movie's premiere at the Toronto Film Festival below:
Other Brits celebrating birthdays this week:
Monday, Oct 7: Former American Idol judge Simon Cowell, who currently presides over The X Factor in the U.S. and Britain's Got Talent in the U.K., turns 54. For anyone who hasn't been reading the gossip rags lately, the never married Cowell will soon become a father, for the first time; the mother-to-be is his new American girlfriend, Lauren Silverman, the soon-to-be former wife of his one-time best friend.
Tuesday, Oct. 8: Anne-Marie Duff, the talented actress best known for playing Elizabeth I in the 2005 BBC miniseries, The Virgin Queen, and Fiona in the British version of Shameless, celebrates her 43rdbirthday. We can only hope that husband James McAvoy, whom she met in 2004 when they costarred onShameless and wed in 2006, gets her a lovely gift.
Wednesday, Oct. 9: British Prime Minister David Cameron, the Conservative who was elected to the government's top post in 2010, turns 47. He made news last week when he turned down an invitation from the Food Network to star in a baking show. The invitation was proffered after he incorrectly guessed the price of a budget loaf of bread during a radio interview and then explained his wrong answer away by saying that he didn't buy bread but, rather, baked healthy loaves at home in a bread-making machine for his children.
Thursday, Oct. 10:  Lanky leading man Charles Dance, who first became famous when he starred in the 1984 miniseries, The Jewel in the Crown, marks his 67th birthday.  The actor has also appeared in such films as Alien 3, Michael Collins and Gosford Park and the popular HBO series, Game of Thrones.
Friday, Oct. 11: Funny lady Dawn French turns 57. The comic actress' impressive resume includes starring in several British TV shows with partner-in-hilarity Jennifer Saunders, her one-time college flatmate. The two also co-created Absolutely Fabulous, the iconic fashion send-up series in which Saunders starred. More recently, French had the title role in the popular sitcom, The Vicar of Dibley. She's currently Down Under doing a stint as a judge on the TV program, Australia's Got Talent. Check out a promo for her appearance on the show:
Saturday, Oct. 12: Actor David Threlfall joins fellow Shameless cast member Duff in celebrating a birthday this week; he turns 60. The Manchester-born thespian has played layabout Frank Gallagher on the British series for its entire run.
Sunday, Oct. 13: Cinematic prankster Sacha Baron Cohen, who rocketed to stardom in England as faux rapper Ali G on Da Ali G Show, turns 42. He became a worldwide movie star when he appeared in Borat (the actual title of the 2006 comedy smash was Borat: Cultural Learnings of America Make Benefit Glorious Nation of Kazakhstan). He next shows up in Anchorman 2: The Legend Continues, opening Dec. 20.
Travel back with us now to revisit Ali G's hilarious interview with Victoria and David Beckham for BBC's Comic Relief (Warning: Totally NSFW!):
Who of those listed above do you most want to wish a happy birthday?
Read More
Filed Under: